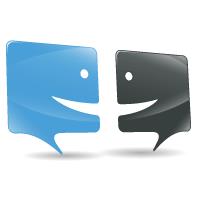 Ryan Frankel and Kunal Sarda, two Wharton Business school graduates, pitch VerbalizeIt – their innovative smart phone app that connects travelers with live translators all over the globe. The "techtrepreneurs" met at Wharton and realized the need for such a service after sharing horror stories about not being able to communicate while traveling overseas. They also realized the need for real human translators, not a voice recognition algorithm. Subtleties like dialect, accents, and regional slang can trip up computer translators, so they built a network of people to deliver the service and used the app as an aggregation center for the service. VerbalizeIt  ensures "language is never a barrier in any conversation."
VerbalizeIt Tank Recap
Ryan Frankel and Kunal Sarda hope to land an investment of $250,000 in return for 15% of the company. They demonstrate by having a model translate their initial pitch, showing how the app connects users to a live translator, who communicates through the speakerphone feature, directly with the native speaker.
The Sharks are impressed with the pair's Wharton background, but they want more information. Kevin O'Leary wants to know about the business model, and how it works. The entrepreneurs have 2,000 multilingual translators, and claim to be able to connect the customer with a translator in 15 seconds.
The app is free to download, and costs between 50 cents and $1.00 a minute to use. They claim a 70% margin, and have had sales of $10,000 in two weeks. Mark Cuban doesn't believe that it's possible to get high-quality translators who can speak business-ese, at the current pay rate of $7-$15 an hour.
The pair has a contract with Skype, but without an exclusivity deal, Barbara Corcoran goes out.
Daymond John believes the tech-minded Sharks will fight amongst themselves for the deal. He's out.
Mark Cuban makes an offer, for $250,000 for 25%, take it or leave it. The pair would like to hear other offers, so Cuban threatens to drop out. Kevin O'Leary jumps in with an offer of $250,000 for 20%. Robert Herjavec matches Cuban's offer of $250,000 for 25%, telling the pair "I think you're smart guys. I think you'll pick the right partner."
With three offers on the table, the pair request a moment to talk things over. They ask if Cuban and Herjavec will improve their offers to beat O'Leary's. The Sharks stand firm, and the pair go with Kevin O'Leary's deal.
VerbalizeIt Shark Tank Update
The surprise move of accepting O'Leary's offer didn't pan out. The entrepreneurs ultimately rejected Mr. Wonderful's terms, and sought outside funding- which they received. Today, VerbalizeIt has expanded their offerings to document translation as well as video, website content, and app translation.
Taking Mark Cuban's rather sharply-worded advice, the pair shifted the focus of the company toward business-to-business applications, away from an individual consumer-based model. Since then, the company has taken off, and the pair are enjoying translating their business into a healthy bank balance.
The company did so well, it was acquired by Smartling in December, 2016 for an undisclosed amount.
Posts about VerbalizeIt on Shark Tank Blog
VerbalizeIt Information