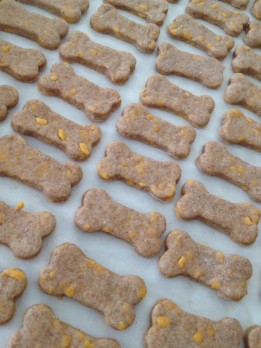 11 year-old Ryan Kelly pitches his home made dog treats in Shark Tank episode 424. He started his business, called  Ryan's Barkery, when the rescue dog he brought home turned up his nose at the store-bought treats Ryan tried to feed him. He set out to learn all he could about making yummy dog treats by visiting veterinarians and testing out recipes in his mother's kitchen. Once Ryan found a recipe his pooch liked, he began going door to door in his community selling his home made dog treats and Ryan's Barkery was born.
The home made dog treats are made from fresh, human grade ingredients. Flavors include Peanut Butter, Banana Oat, Pumpkin Apple, and Low-fat Cheddar. There are no additives or preservatives, just wholesome goodness!
Home Made Dog Treats Business
62 percent of American households have a pet, with dogs accounting for 40 percent of the total. Americans spend nearly $60 Billion on their pets annually, so there's a HUGE market. Gourmet dog food and treats are a rapidly growing segment of the market and Ryan's home made dog treats sit squarely in that niche. Even when the economy turns down, people still spend money to care for their pets, so the market won't dry up soon.
I occasionally buy fancy treats for my own dog – when she's been a good girl. We also make our own dog food for her (maybe I should cut a deal with Ryan) because a lot of the store-bought food isn't wholesome or is too expensive; she likes the home made food too. With the right distribution and branding, young Ryan might have a very good little business on his hands.
Do Sharks like Dog Treats?
Young Ryan is one of many young entrepreneurs appearing on Shark Tank in season 4, but he's the last. He obviously knows how to make home made dog treats and his quiet, almost shy, demeanor made him the "poster child" for season 4's young entrepreneurs.
Let's face it, he'll have an easy time with the Sharks. They aren't going to beat up on an 11-year-old kid. He's a cute kid too – viewers will probably fall in love with him. I like the fact that he had the ambition to go out and sell door to door. Most 11-year-old kids these days wouldn't peel themselves away from their computer long enough to sell ANYTHING door to door, let alone start a business!
I think young Ryan is going to do a deal with Mark Cuban and Barbara Corcoran. In a New York Post article back in January 2013, Barbara said she and Mark invested in a kid's product that turned out to be in "the 'I'm in love with my hobby' category." Barbara backed out of the deal in due diligence, but Cuban elected to move forward.  I think Ryan's Barkery is the deal she was alluding to.
Regardless of the spoiler, I like Ryan's idea and his attitude; we need more kids like him in this world, so I am 100% and enthusiastically "IN!"