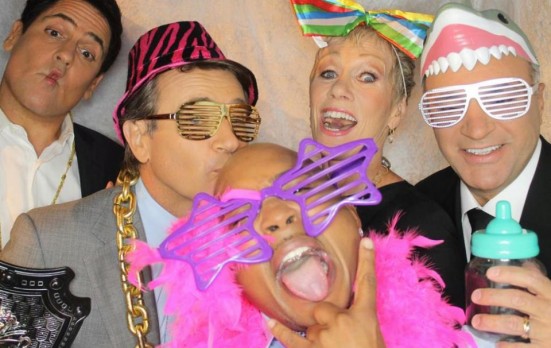 Friday May 10 has two Shark Tank episodes in store and it doesn't look like Happy Endings will preempt the 8 PM re-run this week. Fans will have 2 hours of  "Sharkiness" for the next three weeks including a "double season finale" next week as the episode that got bumped for the Boston bombing coverage gets shown before the all-new season 4 finale.
Friday May 10 Episode 411
Episode 411 is up at 8 PM. Marine Corps officer and entrepreneur Robert Dyer got a deal last fall when he swam with the Sharks for RuckPack, his "HOO-RAH" energy drink designed for re-energizing troops in combat.
Former fashion publicist Jaqueline Courtney didn't impress the Sharks with Nearly Newlywed, an online bridal boutique for buying and selling "once worn" wedding gowns and bridesmaids dresses.
Nathan Buffet and Shane Cianciolo (better known as Captain Nate and Shane) sank in the tank when the Sharks failed to invest in Cork's Away, their wine-themed sailboat tour business.
Attorney and entrepreneur Scott Tindle couldn't tie up a deal with the Sharks for Tie Try – the Netflix of ties.
Aldo Orta is the featured update. Orta made a deal with Barbara Corcoran and Kevin Harrington in season two and his jewelry designs are in great demand.
Friday May 10 Episode 425
An all new Shark Tank, Episode 425, is up at 9 PM. Mary Beth Lugo pitches KaZam, a bike with no training wheels or pedals designed to teach young kids how to ride. Will the Sharks invest or will KaZam have to walk out?
Baby's Bad Ass Burgers owners Erica Cohen and Lori Barbera look for an investment in their burger babes food truck. The question is, do Sharks like burgers?
Entrepreneur Lance Yabut seeks funding for Pink Shutter Photobooths, his successful Photobooth Rental Service. Will the Sharks invest after getting a snapshot of his business plan?
Track Days is a motorcycle racing movie that would be producers James LaVitola and Brian Pitt hope to film with an infusion of Shark funding. Will they make a blockbuster deal?
Cheryl Rigdon, the inventor of The Spatty, gets an update after she shook off the Sharks' snub of her make-up spatula and went on to get them made and successfully sold a whole bunch of them!
Shark Tank will be back next Friday and the Shark Tank Blog will continue to bring you all the best Shark Tank news. Get a sneak peek at Fridays show: