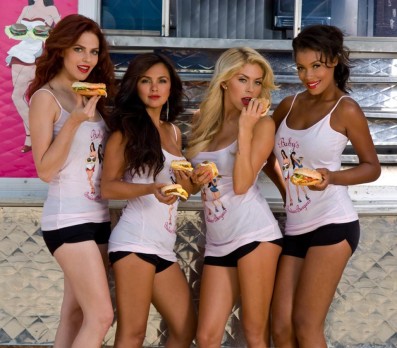 Baby's Bad Ass Burgers entrepreneurs Erica Cohen and Lori Barbera pitch their burger babes food truck in Shark Tank episode 425. Erica and Lori are combining two key ingredients to assure their business is successful (with the male demographic anyway): good burgers and beautiful burger babes to serve them! They decided to brand the concept of a burger babes food truck while refining the menu with chef Jason Ryczek.
The two entrepreneurs and business partners are burger lovers themselves and they sought to capitalize on the gourmet burger trend in LA by offering high-end burgers without the high-end restaurant price. Adding burger babes to the mix was just smart marketing. It was also a defacto move in the early days when they (wo)manned the food truck: both women are pretty easy on the eyes themselves! The burger babes food truck serves all kinds – from celebrities to business people to students – and the consensus is Baby's Bad Ass Burgers are as hot as the babes serving them!
Burger Babes Food Truck Business
Even though I am well-known for my fondness for hot dogs, I LOVE good burgers. As my excruciatingly beautiful wife will affirm, I also like looking at attractive women (hey, I get to do it every day at home). There are a lot of other guys (and probably some women too) who like the combination of juicy burgers and beautiful burger babes; it's such an all-American concept, no wonder Baby's Bad Ass Burgers is a popular LA food truck.
While running a food truck is a good business, Cohen and Barbera know expansion is the key to growing it. They have a truck on the ground in Jacksonville, FL and they actively solicit franchisees on their website. Their vision is to become a national brand through franchising.
Shark Burgers
Another LA area food truck found success in Shark Tank season 4. Cousins Maine Lobster did a deal with Barbara Corcoran in episode 406 and got an update in episode 413. Popular food trucks in big markets like LA make solid money, but there has to be more to the business plan than just the truck. The lobster guys used their Maine connections to start importing lobsters as an add-on business; Baby's Bad Ass Burgers want to use franchising to expand their empire.
Barbara would seem to be the most obvious targeted Shark, but I'm not sure she's interested in having an ownership interest in two trucks in the same market. She may be intrigued by the franchising concept and could make an offer based on her positive experience with Cousins. The other Sharks may see opportunity with the burger babes food truck and make offers based on Barbara's past success. Even though a pair of beautiful women will be pitching to them, the "boy Sharks" will want to see solid numbers, not eye candy.
I'm not sure if  Baby's Bad Ass Burgers gets a deal, but I am "IN" with a Bombshell Burger and some sweet potato fries!