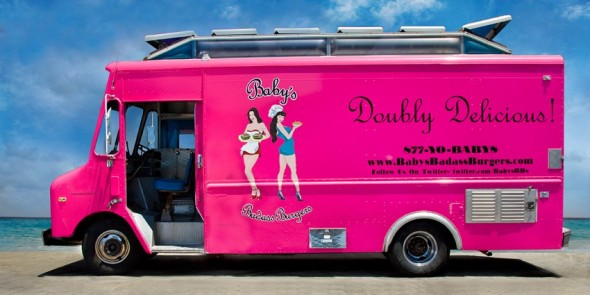 Babys Bad Ass Burgers is the second Los Angeles area food truck to enter the Shark Tank in season 4 and entrepreneurs Erica Cohen and Lori Barbera hope the Sharks will sink their teeth into their bright pink burger truck staffed by beautiful women in episode 425. Cohen is a former New York restaurateur and Barbera is a former event planner who's been on a life-long quest to find the perfect cheeseburger. Back in 2009, they started Babys Bad Ass Burgers to capitalize on the LA food truck craze and their gourmet burgers, served by beautiful babes, have become a hit with celebrities and foodies all over greater Los Angeles. They do private events and they're looking for franchisees nationwide. There is a second Babys Bad Ass Burgers in Jacksonville, FL too.
Babys Bad Ass Burgers Shark Tank Recap
Erica Cohen and Lori Barbera come into the Shark Tank seeking a $250,000 investment in return for a 30% stake in Baby's Bad Ass Burgers. The ladies enter the Tank with a model of their hot-pink truck, and pass out samples of their burgers.
They present their idea for a brick-and-mortar store. Both ladies have extensive experience in the restaurant business, and had always planned to take their mobile trucks into something more permanent. With sales over 3 years totalling $850,000, they're already running a successful business with their trucks. They're averaging $375,000 a year.
Robert Herjavec challenges the idea of shifting from an already successful business with the truck  model into a brick-and-mortar store.
Mark Cuban tells Cohen and Barbera to "follow the money," and all the Sharks agree that the trucks are the right business model, and that the restaurant is too large a risk. Robert Herjavec is out.
Barbara Corcoran believes they're trying to "escape" their current hands-on model. She's out.
Mark Cuban believes a restaurant will cost far more than the ladies anticipate. He's out.
Kevin O'Leary would have been interested if they'd asked for $500,000 in order to roll out 10 more trucks, but because they won't budge on the restaurant idea, he's out.
Daymond John goes out based on the entrepreneur's inflexibility with their business model. He also believes the trucks are the money makers and the brick and mortar store is too risky. The ladies leave the Shark Tank with no deal.
Baby's Bad Ass Burgers Shark Tank Update
In spite of their loss in the Shark Tank, Baby's Bad Ass burgers continue to grow and show a profit. However, the ladies appear to have taken the Sharks' criticism and advice to heart. The physical location has not materialized. Instead, the pair continue to sell their high-end gourmet burgers out of their hot pink kitchen on wheels.
The pair had another appearance on the reality TV show Restaurant Startup on CNBC. Like their Shark Tank pitch, they were unsuccessful there too. Even with two "failed" reality TV experiences, the women are good at leveraging publicity.
Since crowds flock to their announced locations, and they've expanded into catering private events, it seems that Baby's Bad Ass Burgers is a successful business model. The Sharks might not be burger experts, but they do know business, and it appears that Cohen and Barbera have benefited from the Shark Tank experience, even without a Shark deal.
Since airing, they've grown to 6 truck locations: Los Angeles, San Bernardino, Ventura, San Diego, Orange County and Houston. As of March, 2022, the Houston truck is no more. As of August, 2022, annual revenue is a whopping $5 million!
Posts About Babys Bad Ass Burgers on Shark Tank Blog
Babys Bad Ass Burgers Information