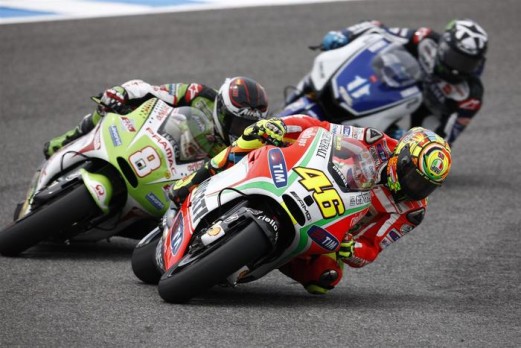 Track Days is a motorcycle racing movie that seeks funding in Shark Tank episode 425. It's the pet project of stuntman James LaVitola, writer Cliff Dorfman, and producer Brian Pitt; they're looking to raise $2 Million to get their motorcycle racing movie produced. They launched a Kickstarter campaign on April 22, 2013 and to date have a little over $1,000 funded.
Using Kickstarter in conjunction with Shark Tank was done successfully by Remixx Sneakers founder Gary Gagnon in season three. He said in an update interview with Shark Tank Blog that over a third of Kickstarter funding could be directly attributed to Shark Tank. If the Track Days triumvirate gets that kind of response, they should expect close to $700K; they're asking for a LOT more than Gary was though.
Motorcycle Racing Movie Viability
LaVitola claims motorcycle racing is the second most watched sport in the USA and there's been no movies made about it yet. That shows a clear void in the marketplace. With the success of Fast and Furious (LaVitola did some stunts in that movie) and other "high-octane" movies, it isn't too much of a stretch to say a motorcycle racing movie could be profitable. It's not the type of movie I'd go to the theater and see, but I might take a look if it came on cable, but I am sure there is an audience for such a film.
Do Sharks Get on the Bike?
Robert Herjavec is a car racing aficionado, so he's the obvious "target Shark" for LaVitola and company. Mark Cuban owns Landmark Theaters, so he could be a target for distribution alone. I don't know if any other Sharks are into motorcycles, but I don't think ANY Sharks will be into investing. The movie business is crazy and unpredictable and the $2 million dollar asking price is probably a bit more than the Sharks are willing to do on something that has no proven history.
What I do think will happen is the Track Days Kickstarter campaign will get a big boost from the show. They'll probably attract some other investors as well. If motorcycle racing is as popular as LaVitola says it is, they should attract some serious investors in the audience. I think LaVitola's motorcycle racing movie will get done, but without a Shark.