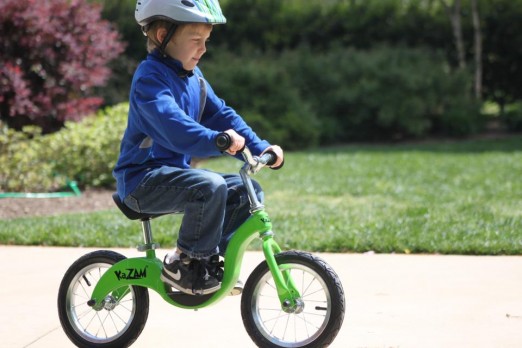 Entrepreneur Mary Beth Lugo pitches a bike with no training wheels in Shark Tank episode 425. Lugo and her partner,  Elizabeth Wagner (who doesn't appear on the show), are co-owners of KaZAM, a company that sells "balance bikes" to help train young children how to ride a bike. The bike with no training wheels doesn't have pedals either, instead it's equipped with a footrest so kids can practice their balance while gliding along.
The KaZAM is kind of a cross between a scooter and a bike. Children propel the bike with no training wheels by pushing along with their feet. Once they're at good cruising speed, they put their feet on the footrest and glide. KaZAM bikes are meant for use on flat surfaces and are designed to boost confidence and get kids comfortable with riding on two wheels with no added support. KaZAM won numerous awards from parent and toy industry organizations and hopes to ride to success on the growing popularity of the balance bike with no training wheels.
I Wish I had a Bike With No Training Wheels!
I taught five children how to ride bikes; some got the hang of it right away while others expressed anxiety and didn't learn without a lot of falls and skinned knees. We did it the old-fashioned way: let them use training wheels until "the big day" when they're removed. The immediate notion that there is no added support throws kids off: they're afraid of falling and they's so focused on balance, they forget to pedal or just keep their feet on the ground. It can be a daunting task.
The balance bike with no training wheels eliminates the fear of losing balance, since  (hopefully) the kid learned to glide on two wheels. Once that fear is removed, it should make it easier to start pedaling away. The KaZAM is a very simple solution to a problem every parent faces. The band-aid people might not like these balance bikes, but parents everywhere will scoop them up, once they're educated on the concept.
Do the Sharks take the Training Wheels off and Invest?
KaZAM balance bikes are one of those "why didn't I think of that" type of inventions. The concept is so simple and logical, it seems like they should have been selling these things for years. Assuming the business is otherwise sound, KaZAM should receive multiple offers. The Sharks have all gone through teaching kids how to ride a bike, so it's a product that will hit home with them.
I'm not sure if a deal will get done – the exposure on Shark Tank is sure to spark the Shark Tank Effect. I'd expect KaZAM to sell a lot of bikes in the show's aftermath – particularly with summer coming soon. A lot of parents will drop some cash for something that will make their child's transition to two wheels less traumatic and painful. Lugo gets what she wants whether she does a deal or not: exposure for a very smart product in front of 14 million eyeballs. End result: A LOT OF SALES, whether a Shark invest or not.
I, for one, am solidly "IN!" Just leave the training wheels at home!