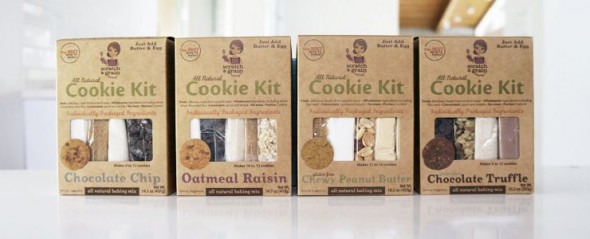 Oregon "momtrepreneurs" Leah Tutin and Taya Geiger hope to get some scratch from a Shark when the pitch Scratch and Grain Baking Company, their gourmet cookie baking kits, in Shark Tank episode 607. Tutin and Geiger barely knew each other before starting their business, but they shared a love of their families and baking. They both wanted to make it easier for themselves and others to make home-made cookies without the mess and hassle of compiling the ingredients.
The two women make many of their cookie kits gluten free, not because they are gluten sensitive, but because they know a lot of people are; they wanted a tasty, gluten-free cookie for their customers. They also managed to sneak in healthy grains and (mostly) organic ingredients into their mixes, so you can feel good about giving your kids a "healthier" cookie.
Scratch and Grain Baking Company cookie kits cost $8-$10 each and yield about a dozen cookies. They also sell combo packs with three, four, or six kits included for $24-$45. You can find Scratch and Grain Baking Company products on Amazon and on the company website.
The two women are likely looking for a Shark's help with distribution and cash for fulfilling orders. Will a Shark bite on Scratch and Grain Baking Company?
Scratch and Grain Baking Company Shark Tank Recap
Leah and Taya enter seeking $150K for 20% of their business. After explaining their cookie kits, they hand out samples. The Sharks love the cookies! They reveal they're in over 200 Whole Foods. They've done $52,000 in sales in 14 months. Part of their slow growth is due to the fact they are still hand packing everything which is killing their margins.
Mark simplifies things and quickly goes out – with an empty plate of cookies in front of him! Lori likes the women, but thinks the space is too competitive; she's out. Taya gets a little teary and Robert offers her a hankie. Kevin says they need to get their costs down; he's out. Barbara doesn't like the name, or the valuation. Robert likes the women, but thinks the category is too complex for him. Robert offers $150K for 40% if Barbara will go in half with him.
After a break, Barbara offers a $150K line of credit for 20% of the business. She doesn't want to work with Robert. The women ask if Robert will do $150K for 40% with just him, he agrees but the women go with Barbara.
RESULT: DEAL with Barbara for $150K line of credit for 20%.
Scratch and Grain Baking Company Shark Tank Update
The Shark Tank Blog constantly provides updates and follow-ups about entrepreneurs who have appeared on the Shark Tank TV show. Apparently, taping their segment was so stressful, Taya went into labor four weeks early just 20 hours after filming the segment. In a season seven update, Barbara appeared at the New York Food Show with Scratch and Grain Baking Company. She worked the booth with Leah and Taya, attracting buyers. Leah says the entire Shark Tank experience has been a miracle and has helped lead the company to over $400K in sales.
Everything isn't all roses, however. Rapid growth left the company with cash flow issues and deteriorating machinery. There's more to the story in Beyond the Tank episode 205. Read that update HERE.
Something must have happened to this business, but I can't find out what. As of August, 2021, they are out of business.
Posts About Scratch and Grain Baking Company on Shark Tank Blog
Company Information
Video