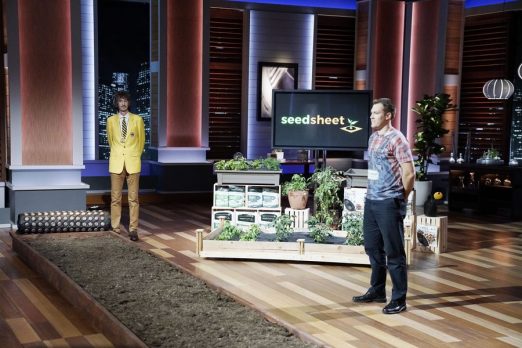 Cam MacKugler hopes a Shark sees the growth potential of SeedSheet, his idiot proof organic gardening system, when he pitches in episode 822. SeedSheet is a garden that literally unrolls and is ready to go. If you can unroll a blanket, you can have an organic garden.
SeedSheet comes in a series of pre-designed gardening kits based on the types of vegetables you want to grow. The kit arrives with seed pods attached to a roll of weed suppressant fabric. Unroll the sheet onto a prepared garden bed, water it, and start growing veggies.
MacKugler got the idea for his product in 2012 while house sitting a friend's 80 acre farm. He loved the fresh veggies he got while staying there, but didn't think he had what it takes to start his own garden. When the idea for SeedSheet popped in his head, he designed the first prototype with his friend's kid's crayons.
As an architect, he knew about elements of design. Customers design their gardens online with the patent-pending garden-builder software. Enter your zip code, and the software gives suggestions for what grows best in your area. Once you design your garden, they put it together and ship it. MacKugler got the business going with a successful Kickstarter campaign back in the summer of 2015. He raised $30,664 and shipped over 250 ready-made gardens. Pre-designed kits start at $15, so it's both cheap and easy to get started.
Cam likely wants a Shark to help him get into national retail chains. Will a Shark want to eat veggies?
SeedSheet Shark Tank Recap
Cam enters seeking $500,000 for 10% of his business. He does his pitch, then introduces Dan Rollman from Record Setter, a place where "anyone can set a world record." Cam asks Mark to come onstage to set a world record for planting 7,000 seeds. Mark unrolls the seed mat in 14.5 seconds and sets the record!
He explains the different options to the Sharks and gives them some of his background. It costs $1-$3 to make each product. They wholesale for $7.50 and retail for $14.99. In 20 months, he's done $156,000 in sales. He has product in 46 Home Depot stores. While Mark questions the move to retail, Daymond marvels that he's disrupting gardening.
Even though he's impressed, Daymond thinks Cam hasn't figured out the move to retail; he's out. Robert is the next Shark out, saying he doesn't think his son would use it. Lori loves the idea and thinks she can sell it on QVC. She offers $500,000 for 22%. Kevin offers $500,000 for 15%. Mark offers to go in with Lori 50-50.
Lori says she'll cut Mark out of the deal and Cam asks if they'll team up for 20%. Kevin then drops to 12.5%. After a lot of tension and bickering, Cam does the deal with Lori at $500,000 for 20%.
SeedSheet Shark Tank Update
The Shark Tank Blog constantly provides updates and follow-ups about entrepreneurs who have appeared on the Shark Tank TV show. Lori appeared in her own garden to sell this product on QVC. In the first two years following its air date, they did $1.5 million in sales.
They no longer sell the $14.99 product. Now, they offer container gardens for $24.99, a family size garden for $79.99 and a 4×8 raised bed garden (raised bed not included) for $99.99.  They also offer themed container garden bundles (3 container gardens) for $92.99. In 2020, they dropped all retail sales to focus strictly on eCommerce. They also switched from the smaller gardens to larger sheets for raised bed gardens. The new layouts let customers customize what they want in their gardens. As of August, 2023, the company is in business and earning $5 million in annual revenue.
Posts About SeedSheet on Shark Tank Blog
SeedSheet Company Information
Video