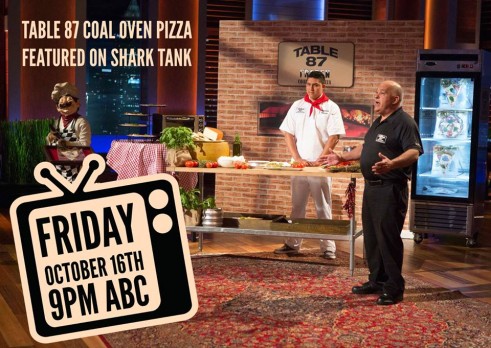 Tom Cucco wants the Sharks to take a slice of his pizza shops, called Table 87 Coal Oven Pizza, in Shark Tank episode 706. Cucco opened the first Table 87 Coal Oven Pizza shop in Brooklyn Heights in the fall of 2013. Table 87 is the only coal oven pizza place in New York that serves coal oven pizza by the slice. There are about a dozen other places in the city that sell coal oven pizza, but not by the slice.
Cooking with coal offers two benefits. The first is nostalgia; the first pizza shops in New York city in the early 1900's all used coal – it was the fuel of choice in its day. The second is coal burns hotter than wood, giving the pizza a crispier crust – more so than wood fired ovens.
Technology allows Cucco to burn with coal. Old coal ovens were dirty and put lots of soot into the air. New, gas assisted coal ovens and cleaner burning coal burn much cleaner than their early twentieth century counterparts. The result is coal hot ovens and great pizza.
A quick look at the reviews for Table 87 Coal Oven Pizza reveal that the locals LOVE it. With toppings like Prosciutto, Baby Arugula, Mozzarella San Marzano Tomatoes, House Made Sausage, Roasted Red Peppers, Fontina Cheese, Wild Mushrooms, and more, there's something for everyone.
Cucco is likely looking for a Shark to help open more Table 87 Coal Oven Pizza shops or possibly even assist with financing. Can Mr. Cucco get the Sharks to give him some dough?
Table 87 Coal Oven Pizza Shark Tank Recap
The pitch opens with an "at home" segment with Tom at his Brooklyn location. He tells the story of how he got started and says he wants money for more equipment to streamline his business.
When he enters the Tank, he asks for $200K for 10% of the business. He reveals he's launched his frozen coal oven pizza, which has never been available before. He uses fresh ingredients, cooked fast (2 minutes) in his coal ovens, then flash freezes the slices and pies. After a few "FUGGETABOUTITS," he hands out samples to the Sharks, who devour the pizza.
Mr. Wonderful thinks pizza is a tough business because it's a commodity, but Tom thinks his pizza is the best. He's done $260K in frozen pizza sales so fat and wants the $200K for a commercial kitchen. He sells the pizzas to the store for $6.50; they sell it for $11-$12. He makes it clear the Sharks are only investing in the frozen pizza business. Tom says the big guys, like DOMINOS don't know what they're doing and that Amazon Fresh is interested in his product.
Mark wants to know how you heat it – Tom says just warm it up because it's precooked – you can eat it cold. Mark sees the opportunity as on demand and online. Robert thinks the business is too competitive, he's out. Mr. Wonderful thinks the business is over valued, but he wants to wait and see what the other Sharks do.
Barbara thinks he's going in too many directions – she says if we do a deal, she only wants to sell single slices and she's going to make offer, but wants more of the business. After a break, she offers $200K for 30%
Mr Wonderful says, "OUCH! She took a whole slice out of your pie!" He thinks it's impossible to separate the restaurants and the frozen pizza business. He offers a royalty deal: he'll give Tom $200K with a 25 cent per slice royalty until he recoups $600K – Tom says "I'll think about it."
Lori LOVES the pizza a makes an "offer Tom can't refuse." She offers $250K for 20% with no contingencies – Tom can sell whole pies and slices. She touts her retail relationships and thinks he can sell pies and slices to bars bars idea and other venues.
Mark thinks ON DEMAND pizza is the gold mine. He says he'll be a customer, but he's out.
Lori wants an answer now. Tom asks her to go to 18%, Lori counters with 19%. As these negotiations are happening, Barbara tries to get back in on the deal, but Tom takes the deal with Lori for 19%, prompting Barbara to exclaim, "I feel like a woman scorned!"
RESULT: DEAL with Lori for $250K for 19%
Table 87 Coal Oven Pizza Shark Tank Update
The Shark Tank Blog constantly provides updates and follow-ups about entrepreneurs who have appeared on the Shark Tank TV show. The deal with Lori fell through, but Cucco grew the frozen pizza line slowly but surely in the years that followed. As of March, 2023, he has his frozen pizza in hundreds of grocery stores including Wegman's, Whole Foods, Stop & Shop and more. Most of his distribution is east of the Mississippi, but he's looking to be all over the country. They recently opened their third  restaurant too. All three are in Brooklyn. Annual revenue is $5 million.
Posts About Table 87 Coal Oven Pizza on Shark Tank Blog
Table 87 Coal Oven Pizza Company Information
Video