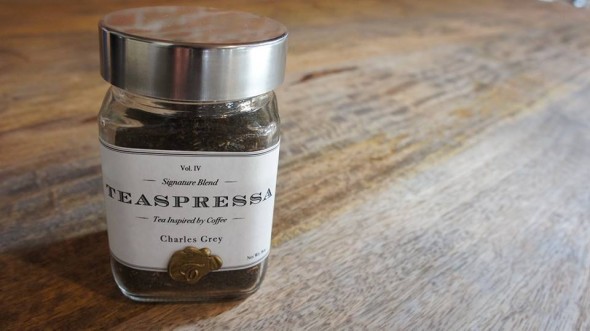 Allison DeVane takes a shot at the Sharks when she pitches Teaspressa, her concentrated, espresso-like tea shots, in Shark Tank episode 720. DeVane got inspired to create Teaspressa because she liked coffee, but got frequent headaches when she drank it. Some teas have as much (or more) caffeine as a cup of coffee, but tea hydrates you, unlike diuretic coffee, so there are no headaches.
By brewing her teas into a thicker, more concentrated liquid, DeVane realized she could prepare coffee-like drinks such as Cappuccino, Macchiato, and Latte. She also sells a special brewing pot in addition to the teas. The tea itself is billed as a "proprietary blend," but the secret is in the brewing method and preparation of the coffee drink copycats.
DeVane sells Teaspressa on her website. At 12 bucks for a 3.5 ounce pouch, it's on the pricey side for most tea drinkers, but it's on par with similar premium tea blends. She also sells her various prepared coffee-like concoctions at several Phoenix area bakeries and fancy food shops. There's also a cold version, called BRUti, for bringing with you on the go.
She likely wants a Shark's help getting her brand "out there" and into more retail locations. Will a Shark take a shot on this business?
Teaspressa Shark Tank Recap
Allison enters seeking $50K for 10% of her business. She has 9 years experience in the coffee industry. Tea is healthier than coffee, but not as fun. She brews it like espresso. She hands out samples and the Sharks like the tea.
Robert wants to know the business and she explains she has a patent pending on the tea shot process. She is in one store in Phoenix and she is their exclusive tea provider. Teaspressa has $26K in sales in 5 months. The pot is necessary for brewing the shots and it, along with the teas blends, is available via her website..
Lori wants to know the plans and  Allison says she wants to be known as the person who made tea cool. Ultimately, she wants to make a machine to make the tea shots. Her pitch is confusing the Sharks. They say this is a great creative outlet, but they want to know what the product is. Kevin says her pitch resembles a scene in a movie where a trap door is about to open beneath her.
Allison says she needs money to build a website so she can sell because she thinks people are looking for a healthier alternative. Barbara thinks Allison needs to communicate more clearly; she's out. Kevin says he has no idea what she does; he's out. A visibly shaken Allison says she wants to be the Starbucks of tea. Mark tells her to take a deep breath. He says she did a good job of articulating her vision, but she doesn't know the business part; he's out. Robert says it's a testament to her character that they're even still talking to her, but excitement about a business is not a focus; he's out.
Lori says she needs to crawl before she can run and she believes Allison will make it, but she's out. Lori says "don't look at this as a failure." Kevin replies "you SHOULD look at this as a failure!" Allison cries, and Lori tells her to keep working at it. In the hall, Allison says that was the hardest thing she's ever done and it hurts.
Teaspressa Shark Tank Update
In spite of her rough ride in the Tank, Allison's business experienced a nice boost from the Shark Tank effect, as it's known. Her sales increased by 20 times, and she was able to open her first storefront in Old Town Scottsdale.
She feels that the Shark Tank was instrumental in the successful growth of her business. It was, perhaps, too early in her business' lifespan to catch the interest of a Shark, but her determination to succeed and the lessons she took away from the Tank helped carry her to the next level.
Today, her social media is active and her website is updated – one of the goals she had going into the Tank. She has added LUXE infused sugar cubes to her lineup, a product that allows customers to make instant flavored tea or coffee, or add a decorative element to bubblies. By 2020. she had three locations, but two shut down due to the Covid 19 pandemic.
As of 2021, the business is thriving, though they still have just the one location – probably for the best after 2020! She continues to sell on her website and Amazon. In January, 2023, the status quo remains the same and they have annual revenue of $1 million.
Posts About Teaspressa on Shark Tank Blog
Teaspressa Company Information
Video