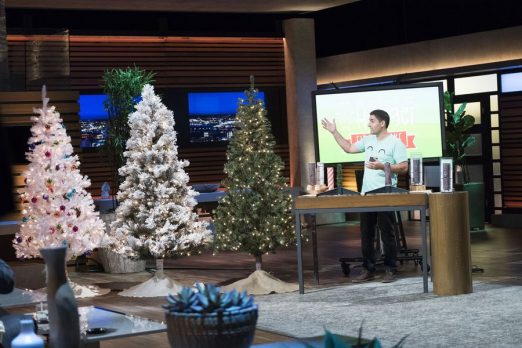 Ryan Kenny is on a mission to "fix the fake" when he pitches the Christmas Tree Hugger in episode 910, the 2017 "Shark Tank Holiday Special." His product is a sleeve that looks like bark (or candy canes) and fits around the base of artificial Christmas trees. The bark makes the trees look more realistic and the candy canes make them look festive. Either way, fake trees look better with the Christmas Tree Hugger.
He got the idea for the product when his wife said she was sick of him complaining about the fuzzy green bottom of their artificial tree. He looked online for solutions and found none, so he set out to make his own. The art school graduate began measuring bases of fake trees in stores and experimenting with different materials and looks. Once he had a good prototype, he filed patents for his invention.
To get going quickly, he started a modest but successful IndieGoGo campaign that raised $2,344  just before Christmas in 2015. The campaign caught the attention of the folks at QVC, where he went on air to sell them during "Christmas in July" in the summer of 2016.
Each Christmas Tree Hugger is made out of wet suit material and folds to size any artificial tree on the market. It fastens with Velcro. They come in either dark bark or birch bark and both "colors" come with a candy cane pattern on the reversible side. One will set you back $17.95 and a two pack (one dark bark one birch) costs just $20.95. In the true spirit of Christmas, a portion of each sale goes to Christmas Tree Santas, a non profit group that supplies Christmas trees to families in need. Mr. Kenny likely wants a Shark to help him get into major retail outlets.
Will a Shark want to hug a tree?
Company Information
Video

The Christmas Tree Hugger on Shark Tank Blog
The Christmas Tree Hugger Shark Tank Recap
Ryan enters seeking $100,000 for 20% of his business. He tells his story, demonstrates the product and hands out samples. Each unit costs him $1.37 landed with packaging and he sells them for $17.99. He has $50,000 in total sales in a year and a half. Lori is surprised to hear he sold 1000 units on QVC during Christmas in July. QVC plans on featuring them again closer to Christmas as they have stock left over. He also had an order from Kroger for 1500 units, but they only sold 40% of the stock. If he sells his remaining stock, he'll make $220,000, half of which will be profit.
Lori is the first Shark out stating it wasn't the right investment for her. Robert says he has a hard time believing in the product; he's out. After complimenting Ryan on his cold calling QVC and Kroger, Barbara goes out. In typical Mr. Wonderful fashion, Kevin tells Ryan to "take it behind the barn and shoot it;" he's out. Mark, calling it a "product, not a company," is the last Shark out.
The Christmas Tree Hugger Shark Tank Update
The Shark Tank Blog constantly provides updates and follow-ups about entrepreneurs who have appeared on the Shark Tank TV show. Immediately following the episode's original air date, Ryan appeared on QVC  again and sold out. The product is now available seasonally at Wal Mart and Home Depot and year round on Amazon. As of August, 2022, the company is still in business with $500,000 in annual revenue and they're eagerly anticipating another Christmas season.