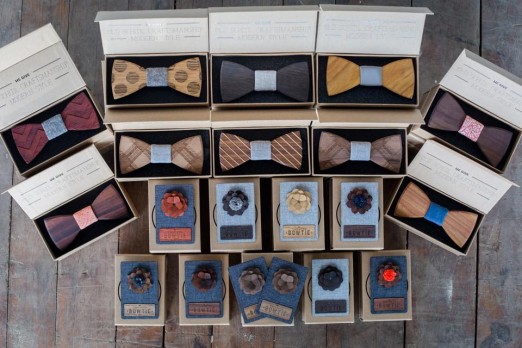 Adam Teague and Tim Paslay hope to strike a deal for their Two Guys Bow Tie Company, a business which makes bow ties and other men's fashion accessories out of exotic hardwoods, in Shark Tank episode 703. The two Tulsa area men, who met in church, started the business in 2012 with the mission of fusing "old school craftsmanship with modern style." They initially began making wood bow ties out of exotic hardwoods like African Zebrawood, Peruvian Walnut, South American Bocote, Canary and more. Each bow tie has patterns etched into the wood.
Since starting an Etsy shop early on in their business, the company received accolades from Esquire Magazine, GQ, Huffington Post and more. NBA stars Mike Conley and SHAQ wear Two Guys Bow Tie products, as do many other celebrities. Since starting, they've expanded to include wood brimmed fedoras, wooden lapel pins, pocket squares, and beard care products. They also offer a "build your own" option where you can design your own bow tie or lapel pin.
The Two Guys Bow Tie Company plans to open a retail shop in Tulsa in late October, 2015. Will their grand opening include a visit from a Shark?
Two Guys Bow Tie Company Shark Tank Recap
The two guys enter the Shark Tank seeking $150K for 10% of their business. They immediately suck up to Mr. Wonderful and say they wanted to make stuff that will set him apart from the fashion crowd. They hand out custom bow tie samples – Lori's has the skyline of Chicago on her bow tie; she loves it!
They go on to explain each bow tie costs $7.50 to make and they retail for $45-$95. Two Guys Bow Ties did $407K in sales last year and they've done just shy of a million dollars in the life of the company. They do very well with their custom ties and they have the ability to pump out 1000 ties per month. The business saw a big lift after the NBA stars like Shaq and Mike Conley touted the ties.
Troy says he loves the stuff, but it's out of his area of expertise; he's out. Mr. Wonderful thinks bow ties could fit into his platform of love (the Something Wonderful Platform). He offers 150k for 15%. Daymond thinks his licensing and fashion experience would be a big boost to the business; he offers $150K for 20%. Mark says he's not a fashion guy; he's out. Lori likes the ties and says she'll be a customer, but thinks Daymond and Kevin are a better fit; she's out.
The guys ask if Troy would come in with Daymond and Daymond says he'd need to go to 30% if that happens, but they still need to ask Troy. After a break, Troy says if they'll go to 30% hes in. The guys counter with 20% with a 5% royalty until Daymond and Troy get their money back. Kevin says hell do $150K for 10% with a 7% royalty. Daymond goes to $150K for 20% with a 10% royalty and the guys counter with $150K for 17.5% with a 10% royalty and Daymond says "DEAL!"
RESULT: DEAL with Daymond and Troy. $150K for 17.5% with a 10% royalty.
Two Guys Bow Tie Company Shark Tank Update
The Shark Tank Blog constantly provides updates and follow-ups about entrepreneurs who have appeared on the Shark Tank TV show. The deal with Daymond closed. After the initial air date, their business more than doubled and they tripled their staff. They also launched their wood brimmed fedoras and a line of regular fabric ties.
In 2016, Teague started a second business called Plank and Mill. This company makes peel and stick wood panels made from reclaimed wood. As of December, 2022, both men still co-own the business. They employ around 50 people and have estimated annual revenues of around $3.5 million. In April, 2023, the website is down.
Posts About Two Guys Bow Tie Company on Shark Tank Blog
Two Guys Bow Tie Company Information
Video