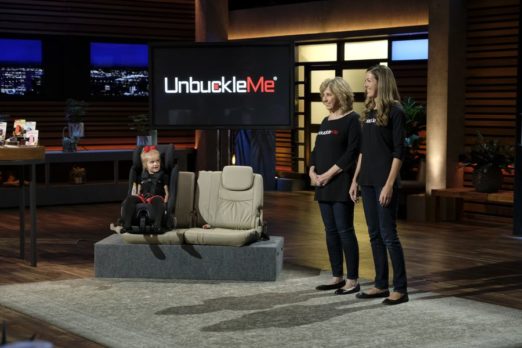 Barbara Heilman and her daughter, Becca Davison, pitch UnbuckleMe, their invention that makes it easier to unbuckle children's car seats, in Shark Tank episode 1114. The Genesis of the idea for Unbuckle Me came when Becca gave birth to her first child. Barbara was excited to be a grandmother and she offered to help with child care. She soon found out she had trouble undoing the belt buckle on the child car seat.
The standard car seat belt buckle requires 9 pounds of force to unlatch. Barbara suffers from arthritis in her thumb and had trouble unlatching it. As a result, she rarely took her granddaughter on outings. Luckily, she utilized her background as an Occupational Therapist and crafted a splint that used leverage to open the belt buckle. When Becca got a look at her mom's invention, she thought there was a need and they decided to start making UnbuckleMe as a business.
They designed what is essentially a small lever/clamp that reduces the pressure required to open standard baby seat buckles. US law requires such seats to need nine pounds of pressure to release so kids can't get out of their seats. The patent pending clamp is small enough to fit in the glove compartment. It's great for people with arthritis, carpal tunnel syndrome and even moms with long finger nails. You can also let the kids use it so they can unbuckle themselves.
They got their first sales from a successful Kickstarter campaign that raised $12,844 back in April, 2017. Now, they have a successful business with product in hundreds of mom and pop retail shops, plus buybuyBABY, Nordstrom and Amazon. It costs only $14.99. They're hoping a Shark will help them take their business to new heights.
Company Information
Video

Posts about UnbuckleMe on Shark Tank Blog
Unbuckle Me – Car Seat Unbuckler
UnbuckleMe Shark Tank Recap
Barbara and Becca enter seeking $100,000 for 10% of their business. Becca's daughter, Eve, is on hand too to demo the product. They hand out samples and ask the Sharks to open a buckle without the device, then with it. The Sharks like it.
Their main concern is they want to cut down customer acquisition costs – around $3.00 per unit sold – which is eating into their margins. They have both design and utility patents on the product. Many of their customers are grandparents, but young families let younger kids use them to get out of their seats, which cuts down time in the drop off lines at school. When Becca tells the Sharks she's a child transportation technician, Mark calls them "the Dream Team!"
All 5 Sharks are interested. Mr. Wonderful and Anne Wojcicki team up to offer $100,000 for 10% equity, plus a fifty cent royalty per unit until they recoup $250,000. Mark and Lori team up to offer $100,000 for 20% equity. Daymond jumps in and undercuts Lori and Mark offering $100,000 for 15%. Ultimately, Becca and Barb go with Mark and Lori because they get two Sharks for just a little more equity.
UnbuckleMe Shark Tank Update
The Shark Tank Blog constantly provides updates and follow-ups about entrepreneurs who have appeared on the Shark Tank TV show. The product sold out on the night the show aired, but they're back in stock now on Amazon. As of the first re-run date (July, 2020), there is no evidence this deal has closed. The company doesn't appear on either Lori or Mark's website.
As of July, 2021, the deal with Lori and Mark did not go through. They had inventory challenges during the Covid-19 pandemic, but they weathered them and have $500,000 in annual revenue. They also added a travel tray, snack cup and other items to their line. As of May, 2022, the company has products in Wal Mart, Target, buybuyBABY and Bed Bath & Beyond and many independent retailers. As of June, 2022, the company has $3 million in lifetime revenue.