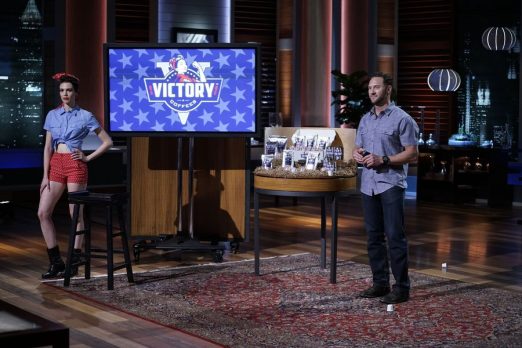 Former Navy Seal sniper Cade Courtley hopes to perk up the Sharks with Victory Coffees, his line of gourmet coffee delivered via a subscription model, in Shark Tank episode 813. Courtley served as a Navy Seal for nine years and often found the only "normalcy" while deployed in a cup of coffee. After he was discharged, he began a speaking career, launched a seal-branded gear business, and taught survival at www.sealsurvival.com. He was also the host of Spike TV's Surviving Disaster.
Cade started Victory Coffees in March, 2015, with a nostalgic, 1940's era branding strategy. His flavors – like Leatherneck, Sailor, Soldier, etc. – have a Rosie the Riveter-like logo. The website is loaded with vintage military photos, too. His goal is hiring veterans as brand ambassadors to sell the coffee directly to consumers.
A monthly subscription costs "a buck a day," but there are more expensive options for people who drink more coffee. All Victory Coffees are organically grown/fairly traded international blends of coffee. You can order whole bean, ground, or K cups.
Courtley likely wants a Shark to help fund business growth. Will a Shark drink this coffee?
Victory Coffees Shark Tank Recap
Cade enters seeking $250,000  for 20% of his company. He explains his company is veteran owned and operated business. After a brief introduction, his assistant – dressed like Rosie the Riveter – hands out samples to the Sharks. They like it.
He sources the coffee from Central and South America, Africa and Sumatra. It's available in whole beans, ground and K-Cups. Mark wants to hear about the business. Cade sells to businesses and direct to consumer and he wants to build a salesforce of veteran/salesmen. Mark thinks he's trying to do too much at once. The Sharks aren't as thrilled with the business as they are with the coffee and one by one, they go out.
Victory Coffees Shark Tank Update
The Shark Tank Blog constantly provides updates and follow-ups about entrepreneurs who have appeared on the Shark Tank TV show. Victory is still in business and appears to be doing well. There are many five-star reviews on their website and Facebook page. Even though the Sharks didn't bite, it looks as if Cade achieved victory.
He hit $1 million in sales by the end of 2017. As of March, 2023, the company is still in business with estimated annual revenue of $3 million.
Posts About Victory Coffees on Shark Tank Blog
Victory Coffees Company Information
Video