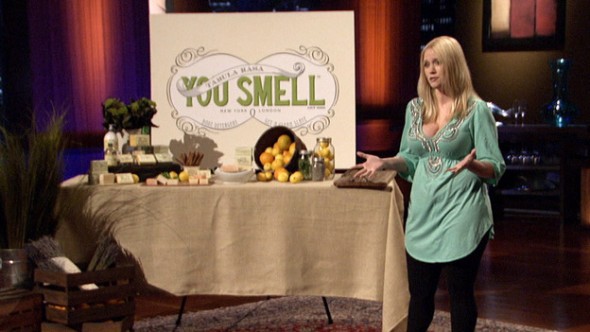 Megan Cummings brings her product, You Smell Soap, to episode 303 of the Shark Tank. The You Smell Soap idea began in a college class as an exercise in unique packaging and presentation. From the humble beginnings, Cummings built her product into a luxury item that she believes will have strong sales, provided she can land a Shark deal to provide the capital and contacts she needs.
She and her fiance are struggling to support the business while they both hold down full-time jobs. Cummings works as a graphic designer, but hopes to give up her day job to go into the soaps business full time. Will the Sharks be tempted by the sweet smell of success, or will You Smell Soap dissolve like so many other products that are brought to the Tank?
You Smell Soap Shark Tank Recap
Cummings comes to the Shark Tank looking for an investment of $55,000 in return for a 20% equity stake. She hands out samples of her first two scents, lemon and lavender mint, and explains that her company is "pre-venture," meaning she doesn't have actual sales numbers in hand yet.
In order to test the market, Cummings had 1,200 bars made and distributed them to various outlets, where they sold for between $7 and $12 a bar. Several retail outlets are willing to order again, including Urban Outfitters. It seems that her brand has a solid footprint in the market, provided that her product meets the Shark standards.
Cummings has an additional product- dis-solvable paper impregnated with the soap which will provide customers with an impulse-buy sample at the register. The ingenious companion product not only provides solid margins in terms of sales, it will help build brand recognition. The Sharks are hooked.
Daymond John says he "has to admire the tenacity," but he feels it's not a business he wants to get into, so he's out. Kevin O'Leary likes Cummings and wishes her luck, but he feels that, without orders in-hand, the risk is too great. He's out.
Mark Cuban wants to know if Cummings has the tenacity to carry the product to success. She responds that she's the "most tenacious" person, and that she'll make the product a success. Cuban makes an offer. $55,000 for 20%. Before Cummings can respond, Barbara Corcoran intervenes with an offer of her own. She believes that Cummings isn't asking for enough, and that she'll need future funding. Corcoran wants 40% and a 10 cent royalty on every bar sold.
Robert Herjavec smells the blood in the water. He jumps in with a third offer. He's willing to offer the $55,000 for 20%, and an additional $50,000 salary so she can invest her time into the business. Corcoran changes her offer to $55,000 for 30%.
In the end, Cummings accepts Herjavec's offer.
You Smell Soap Shark Tank Update
In the end, what appears on television is not the whole story of the Shark Tank. Although the deal with through on air, Cummings never received the money. Herjavec made a second offer for 50% of the company, but Cummings turned it down. The deal gone sour set off a firestorm of criticism against Herjavec in the media. He responded with a statement pointing to the due diligence process, but the excuse seems weak in light of the disclosures Cummings made on camera, of being a pre-venture business.
In spite of the failed deal, she continued to grow her business. Cummings and her fiancé both went into the You Smell business full-time. The product was readily available on Amazon for a while, but the website is no longer operational. In 2014, Megan sold the business to an undisclosed investor for an undisclosed amount. The company later went out of business in 2016. In 2014, Megan started a fashion jewelry company called Sparklepop which enjoyed a few years of success. She closed it down in 2019. In 2017, she started Downloads that Donate, an Etsy Shop that donates a portion of its proceeds to no kill animal shelters. She also runs Megan Cummings Designs, a contract design firm she's had since 2007.
Posts About You Smell Soap on Shark Tank Blog
You Smell Soap – Megan Cummins
You Smell Soap Company Information