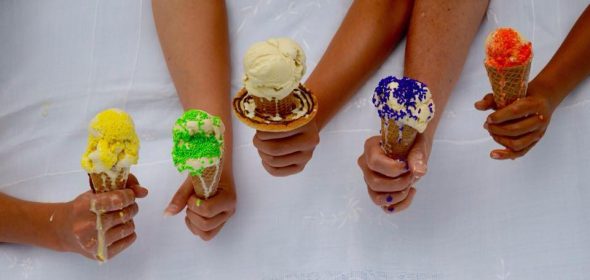 DripDrop inventors, childhood pals and ice cream lovers turned entrepreneurs, Oliver Greenwald and Sam Nassif, are the youngest entrepreneurs to appear in the Shark Tank without their parents. They'll pitch the Sharks on their edible "shield" against messy ice cream hands in Shark Tank episode 723. The pair created their product when they were just 10 years old.
The boys entered the Gates Invention & Innovations competition in 2011 while they were in the fifth grade. A teacher encouraged them to create a product that solved a common problem. Being fifth-graders, they sought inspiration at a local ice cream parlour. When they saw kid after kid eating ice cream while simultaneously dripping streams of ice cream down their arms, the proverbial light-bulb went on.  They envisioned a tray-like sleeve that fit an ice cream cone and caught the drips before they created a river down the arm, and the DripDrop was born.
Fast forward to their Shark Tank taping, and the boys are in the ninth grade. They also secured a patent for the DripDrop in 2012. They want to license their invention to ice cream cone manufacturers rather than produce and sell it on their own. A Shark could certainly help with this endeavor, which is probably why they chose to be on the show. Will a Shark take a bite out of this business and invest?
My Take on the DripDrop
DripDrop is one of those inventions that will leave a lot of people scratching their heads and saying "why didn't I think of that?" The ice cream cone first appeared in America in 1896 when Italian immigrant Italo Marchiony made them in New York City. He patented the product in 1903. The cone really took off at the 1904 St. Louis World's Fair when Ernest A. Hamwi, a Syrian concessionaire, was selling a crisp, waffle-like pastry in a booth right next to an ice cream vendor. When the vendor ran out of dishes, Hamwi rolled his waffles into a "cornucopia" while they were still warm. They cooled quickly and were a perfect solution to the ice cream vendor's problem. By 1906, the cones were being produced in St. Louis for mass distribution. By 1924, yearly cone production reached a record 245 million.
Now, ice cream cones are a ubiquitous part of the culinary landscape. The problem is, they're messy. How many times have you had ice cream drip down your (or your kid's) arm? The answer is probably "EVERY TIME I EAT AN ICE CREAM CONE!" It's happened to me and it certainly (as reams of napkins will attest) has happened to my kids.
The DripDrop is basically a cone-like cookie with a hole in the middle. It snugly fits around the cone, catching the drips as they drop down the sides of the cone. Once you're done, you get to eat the cookie and the drippings; it's almost like getting a whole second cone!
The boys clearly have a winning product on their hands (sans ice cream). I can't imagine any parent buying their kids an ice cream cone without a DripDrop; I know I'd want one. The key to their success is getting it produced. I am sure they don't want to tool up and operate a DripDrop factory. They are quite clear in their desire to license the product. Ice cream cone manufacturers can add to their bottom line with this invention and ought to be lining up at the boys' door to do so. Whether a Shark gets involved or not, I think this invention will be a huge success. For that reason, I am IN – with a double scoop of Ben & Jerry's New York Super Fudge Chunk!
Will the Sharks Eat Ice Cream?
When two boys who are in the ninth grade enter the Tank with a patent – a feat not many Shark Tank entrepreneurs accomplish – the Sharks are sure to be impressed. The fact that the business has no revenue shouldn't be a problem since the real value is in the patent. With over 245 million cones sold per year in the USA alone, it's a big business. Licensing to major cone manufacturers could prove ridiculously lucrative.
The Sharks should see this opportunity and strike. I predict multiple offers and a probable multi-Shark deal for Oliver and Sam.