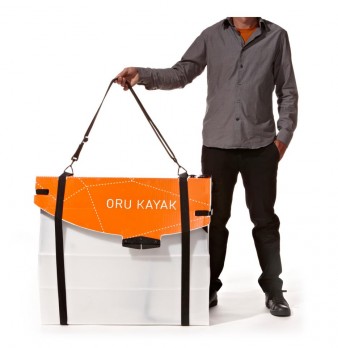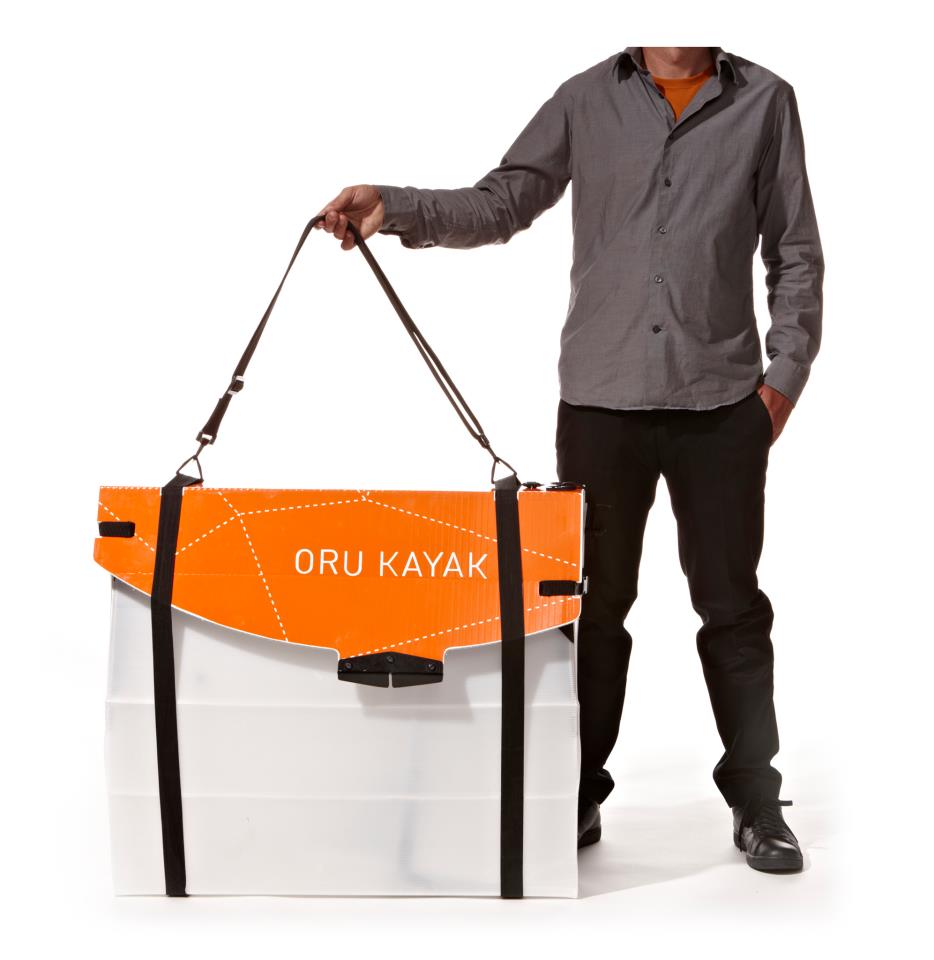 "Paddletrepreneurs" Anton Willis, Roberto Gutierrez, and Ardavan Sobhani hope to launch a new era in their fold up kayak business, Oru Kayak, with an appearance in Shark Tank episode 525 on May 9, 2013. Oru Kayak is the latest Kickstarter sensation to pitch the Sharks. The three San Francisco area men raised nearly half a million dollars on Kickstarter to get the fold up kayak concept off the drawing board and into the water.
Anton invented the fold up kayak system when he moved to a cramped San Francisco apartment and couldn't store his full-sized kayak. Origami inspired the design of Oru kayaks: they fold neatly into a handy carrying bag that's a heck of a lot easier to store and transport than a standard kayak.
Oru Kayaks are durable too. They're designed to be able to be folded up and unfolded again 20,000 times. That's a LOT of kayaking. The fold up kayak design allows folks to bring their kayaks places where they normally couldn't: a plane, a cruise ship, the trunk of a Mini Cooper, etc. The company, besides getting obvious consumer approval on Kickstarter, won an Edison Innovation Award and is the ISPO Product of the Year for 2014/2015.
My Take on the Fold Up Kayak
I own three kayaks, we love paddling around Buzzards Bay every summer and we sometimes take the kayaks up to Maine. Our kayaks are "standard" plastic kayaks. They're just fine at the beach house because we just haul them up on the shore and tie them up when we're done paddling. When we go to Maine, it's a different story!
Maine has some dramatic shoreline and is a great kayaking destination. My wife and I kayak in the Kennebunks, up in Scarborough, the Schoodic Peninsula, and in the Acadia National Park. It's great fun, but hauling two kayaks on the roof of the car can get sketchy, especially when bombing up the Maine Turnpike at 80 MPH! Chucking a  fold up kayak in the trunk would make for much easier transport.
That's where Oru Kayaks have the competitive edge: they're easier to transport and store. We'd take our kayaks a lot more places if they weren't such a pain in the neck to transport and I'm sure there are a lot of others who'd do the same. I like this product and, when we are in the market for a new kayak, they'll be on the short list; I'm IN!
Do Sharks Invest or Fold?
Sporting goods are a mixed bag in the Shark Tank. Sometimes the Sharks invest, other times they go out. Oru Kayak is unlike any other sporting goods ever seen on Shark Tank. Earlier in season 5 we saw Kymera Body Boards leave without an investment, but season three's Tower Paddle Boards is a huge success. I put Oru Kayak in the Tower Paddle boards realm. Kayaks are big business and far more established as a watercraft than stand up paddle boards, plus Oru has sales over $1 million going into the Tank.
The Sharks will want a fair piece of the business at a good valuation to invest, but the product is sure to impress. Robert, the consummate outdoorsman on the panel, will likely make a play. Mark might go in too, due to his past success with Tower Paddle Boards. Daymond likes the outdoors too, despite his Urbane persona, so he could bid. Mr. Wonderful, king of the royalty offers, will likely want to license the fold up kayak technology to a major player in the space. Barbara might even bid – she'll like the portability aspect. I think Oru's track record and their unique design will result in multiple bids from the Sharks.