"W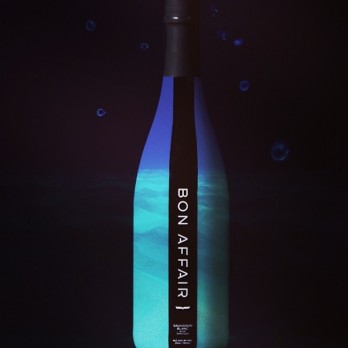 inetrepreneur" Jayla Siciliano hopes the Sharks drink in her pitch for her unique wine spritzer, called Bon Affair, in Shark Tank episode 525 on May 9. Jayla is health conscious, but  she likes a cocktail too; that's why she created a wine spritzer – so she'd have something lighter and healthier to drink when she wants to DRINK.
As a global product specialist for Burton Snowboards and Diesel Footwear, Jayla found herself at a lot of events with alcohol. She wanted to have a drink without filling up, so she "invented" a new wine spritzer for herself and others who share her tastes.
Jayla thinks drinking a wine spritzer makes her feel "lighter on her feet, hydrated, and better the next morning." There are two flavors: Sauvignon Blanc and Syrah; each wine spritzer is all-natural, made with real wine, , zero added sugar, and added electrolytes. It's not Mr. Wonderful's bottle of wine, but whether that translates into a business deal with a Shark or not remains to be seen.
So far, if you want to buy Bon Affair in a store, you need to live in Southern California.  Jayla's placed it into a total of 30 Whole Foods and Albertsons and a few mom and pop stores. You can buy Bon Affair on Amazon in 43 States (the other 7 don't allow wine to be shipped).
My Take on the Wine Spritzer
I'll have to admit, when I want a drink, I opt for a cold, dry martini or a cold beer. When I drink wine, it's usually with a meal. That's not to say I haven't attended "wine and cheese parties," but I have my tastes. Jayla sent along three bottles for me to sample, so I actually have the benefit of trying the product before giving "my take" for a change. She sent along two bottles of Sauvignon Blanc and on bottle of Syrah.
I cracked a bottle of Sauvignon Blanc (we're saving the other two bottles for a trip we're taking) and poured a glass. It drank more like Champagne that tasted like Sauvignon Blanc! Not bad at all, and at $14 a bottle, it's well priced. I can't wait to try the Syrah (it's my favorite red wine). I'd probably buy three to six bottles of Bon Affair a year – based on our current wine "habits." I am IN, unfortunately Bon Affair isn't available in Massachusetts – yet.
Do the Sharks Toast a new Business Partner?
Mr. Wonderful owns his own vineyards. Whenever a wine product comes into the Shark Tank, he has something to say about it – good or bad. I have to believe he's Jayla's "target Shark." Mark usually bows out of wine deals – he's a beer guy after all. I can't see Barbara or Robert investing, but Daymond is always looking to diversify his Shark Tank portfolio and a wine would do just that; he might go in.
That brings us back to Mr. Wonderful. ABC's press release for this episode says: "Self-professed wine connoisseur Kevin O'Leary gives advice to a lady from Solano Beach, CA on her lighter, healthier alternative to a full-bodied wine." The question is will it be constructive advice or the old "take this out behind the barn and burn it" advice? If O'Leary likes the product, he'd be the perfect partner – he has knowledge of the market, lots of connections, and distribution relationships in place. If his advice is to partner with him in one of his stilted deals, this could be the perfect product for it.