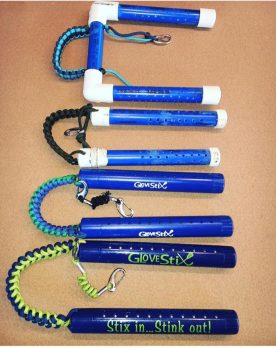 Krista Woods invented Glove Stix because she got tired of being invited to a "stink party." Her son plays lacrosse and his gloves got so sweaty, they literally stunk the family to the point of nausea. When Woods went searching for a solution, she found none. Of course this "momtrepreneur" decided she'd create her own.
The genesis of the idea came on a road trip home from a lacrosse tournament a little over two years ago. Her son's gloves smelled horrible. The family began talking about a solution and Woods continued researching the problem when they arrived home. In short order, she had prototypes made from a specially sourced, moisture absorbing material and some PVC pipes from Home Depot.
Moisture was the cause of her stinky problem in her son's lacrosse gloves. It's also the problem in hockey gloves, baseball mitts and athletic footwear. Get rid of the moisture and you get rid of the stink. Woods was so passionate about her solution, she quit a six-figure job, mortgaged her house and cleaned out her son's college fund to get a first run of product manufactured. Then she went cold calling and setting up tents at athletic tournaments all over the country.
Her hard work paid off. Now, Glove Stix are in over 120 retailers nationwide and have sold over 22,000 units and 14,600 refills. In addition to Glove Stix, she also makes Shoe Stix for sneakers, skate, and boots. She has the go-getter attitude, proof of concept and sales the Sharks like. Now she needs a Shark to help her grow bigger.
My Take on Glove Stix
I played a lot of hockey as a kid and I remember my mom complaining about how bad everything smelled. More recently, I coached youth baseball and had regular stink parties in my minivan on the way back from games. Teenagers are a stinky bunch to begin with. Add sweat and sweaty equipment and it can get pretty gamey in an enclosed space.
This is a product I needed about ten years ago. My wife would say Woods should invent "Fish Stix" to get rid of the stink after a day of fishing, but a shower usually does the trick. I can see many sports moms buying this for their own sanity. I know these customers and for the thirty bucks it costs to eradicate the stink, they'll gladly pay.
Will the Sharks Smell Opportunity?
22,000 units plus refills is over three-quarter of a million dollars in sales in under two years. Woods made this happen with grit and determination – qualities the Sharks like. She says her "secret sauce" is the refill media. Once she makes a sale, she can expect a certain amount of recurring revenue from refills. That sounds a lot like "in perpetuity," a phrase the Sharks LOVE.
I think Woods wows the Sharks with her personality and seals the deal with her sales figures. I expect multiple bids from the Sharks. If she walks away without a deal, I'll be surprised.