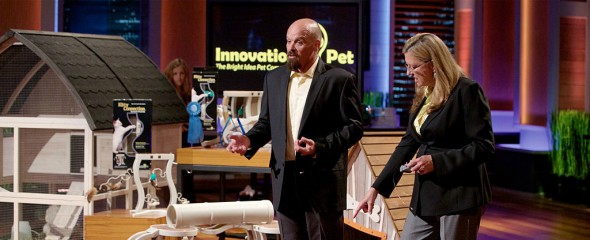 Tim Taft and Victoria Coopman have over 30 years combined experience in the pet industry, so they created their own company to manufacture and sell a wide variety of pet toys in 2012. Their line of products is extensive; they make pet toys, chicken coops, cat scratchers, dog houses, and much more. They'll find out if the Sharks like to play with their pet toys in episode 727.
One of their most popular products is the Kitty Connection Deluxe Twin Tower and Ramp Set. Think of it as an expandable playground for cats. It has tunnels, ramps, scratching posts and places for attaching a number of different add-on toys. The product won third place at the 2014 Global Pet Expo in the cat products category. Add-on toys feature a "cause and effect" way for cats to play: when a cat paws at one toy, another toy moves or makes a sound. Cats love that stuff! They are producing new, automated cat toys which will be available for sale soon; the Sharks get to preview the new toys in the Tank.
Innovation Pet manufactures their pet toys in China and can ship whole containers full of products to pet retailers. While some of their products are available on Amazon, their focus is the retail pet trade. They stock product in large chains and small, "mom and pop" pet stores, too. They may want a Shark to help finance their growth.
My Take on Innovation Pet Toys
I'm a dog guy, so the cat toys aren't my cup of tea. Some of their dog toys look interesting and the dog houses are funky. I also like their chicken coops – I've been trying to talk my wife into getting chickens for years (I LOVE fresh eggs). I buy my dog her fair share of toys when I go to the store for dog food, but it's usually an impulse purchase.
I never bought a dog house before, I've always made my own. It's not hard to do and usually results in a much more durable dog house than most of the pre-fabricated ones I've encountered. Other than occaissionally picking up one of their dog toys, I doubt I'd be a regular customer.
Do Sharks Play with Toys?
Two things tell me that Innovation Pet Toys doesn't get a deal. The first is their website. It doesn't display right and has a lot of missing information. Their Shopping Cart is kind of "clunky," too. When I started navigating around, there were several pages that didn't display properly. Overall, the sight didn't give me a sense of what the business is all about; it's pretty much just a list of all the different pet toys and products they offer.
The second reason is in the promotional video, Tim and Victoria have dozens of products onstage. It gave me the impression that the Sharks were confused and unimpressed with their line. Innovation Pet may be a player in the pet trade, but I don't think the Sharks go for this one.