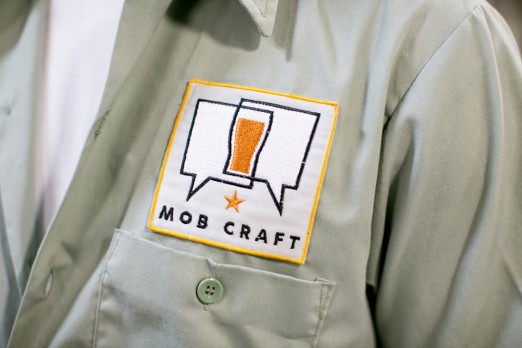 Mob Craft beer co-founder Henry Schwartz knew he wanted to start a micro brewery, but he wanted to stand out from the hundreds of others in Milwaukee, Wisconsin. That's not easy to do in a city and a state known as much for its beer as its cheese! To differentiate the brewery, which he co-founded with Andrew Gierczak and Giotto Troia, they use a crowdfunding model to determine what they brew each month. Mr. Schwartz will pitch their brew to the Sharks in episode 727.
The way Mob Craft works is unique. Each month, they conduct an online poll of which beer they should brew. Customers pre-order whatever beer they want and the one that ends up with the most orders gets made and shipped. Online orders get fulfilled and shipped, plus they sell each monthly winner all over Wisconsin. The brews are ambitious and complex. With names like Suit Up Apricot IPL, Laughing Clown Chocolate Stout, and Outlaw English Black Pepper Ale, you can quickly see this isn't your daddy's Budweiser!
The brewers got their start at a University of Wisconsin Whitewater as part of the university's business incubator program in 2012. In 2013,  they moved to House of Brews, a small micro-brewery in Madison. When it was time to move into their own facility, Mob Craft got its start-up funds from a hybrid form of crowdfunding, raising over $75,000 with Wisconsin-based Craftfund, a crowdfunding platform that allows "backers" to become equity investors in businesses. The business is now brewing in the Madison location and another located in Milwaukee. They raised an additional $2 million they're planning on opening a full-scale brewery and restaurant there, plus some other brewing locations.
Their beer is quite popular and they have to limit the amounts they ship to vendors because of production constraints. Mob Craft hopes a Shark "hops" on board and helps them with expansion.
My Take on Mob Craft
I like beer. My favorite is Guinness, but my wife and I like to sample micro-brews when we dine out. The concept behind Mob Craft is unique and likely caught people's attention when it started, but the beer is what keeps them coming back. I haven't tasted Mob Craft, but I am sure they are good beers; people wouldn't keep buying them if they weren't.
I actually lived in Milwaukee in the early 1980's while attending Marquette University. Our dorm was 8 blocks from the Miller Brewery and my friends and I were regulars on the brewery tour because you got to drink free beer after the tour was done! The 11:45 AM tour on Saturday was a big part of our weekend revelries. Since that time, Milwaukee has become more than a Miller town, there are dozens of micro-breweries and brew pubs all over the city, with plans for more in the works.
Even though I haven't personally tasted Mob Craft, it is beer. For that reason, I'm IN!
Will the Sharks Brew Up a Deal?
Alcoholic beverages have had success in the Shark Tank. Copa Di Vino (two appearances with two offers but no deal), Bon Affair (deal with Mark), BeatBox Beverages (deal with Mark), and Zipz Wine (deal with Mr. Wonderful) all come to mind. Alcohol is a big business and beer is a big part of it. Beer sales in the USA were $101 BILLION in 2015 with craft beers grabbing a $19.6 BILLION slice of the market. That's a lot of beer!
The Sharks will be aware of this, and they also know the ins and outs of bringing alcoholic beverages to market. With more and more businesses utilizing new technology to bring their products to market, why not beer? The promotional videos for this episode show the Sharks tasting the beer and they like it, but will they invest?
Mark Cuban loves his beer and he loves making money; he could be a player. Kevin O'Leary owns a winery, why not add a brewery to his portfolio? The timing of their expansion plans to coincide with their appearance in the Tank makes me think they brew up a deal with a Shark, but, as always, the valuation will play a big role. If Mob Craft gets a deal, expect a Shark Fin IPA to be on next month's list of options!