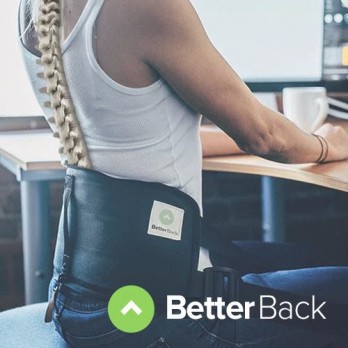 Katherine Krug started looking for a better back pain solution after spending several years sitting at a desk developing the failed goal setting app, Everest. As the COO of that company, she found herself slouching at her desk all day and night, causing a lot of back pain. She did some research on back pain and came up with Better Back, a posture correction device that forces you to sit with correct posture by tilting the pelvis into optimal position. Unlike Everest, Better Back was a big success. She raised over $1.6 million on Kickstarter with a modest starting goal of only $12,500 and was the first solo female entrepreneur to break the million dollar barrier on the site. Katherine pitches Better Back to the Sharks in Shark Tank episode 720.
Back pain is a big problem: over 50% of human beings everywhere suffer from back pain. It's also a profitable niche – over $86 BILLION is spent annually on back and neck pain relief! I spoke with Shark Tank Blog contributor, Doctor of Chiropractic, developer of Lo-Bak Trax, and partner of Lori Grenier, Dr. Roland Berthiaume to get his opinion on this product. He told me "this product is great for people sitting at desks all day, and yes it works, but I will say, it's nothing new. I've seen these around for 20 years. I will be interested to see the pitch."
That got me looking around on the internet and I came across a very similar product called Nada Chair, which has been around for about 30 years. Apparently, Nada Chair customers created quite an uproar over Krug's Kickstarter and there was a lot of public controversy surrounding her campaign. In Krug's defense, she claimed the back pad, knee pad, and strap design is completely different than the Nada Chair. Some Nada Chair users also liked the improvements to the design. To close out the controversy, the owner of Nada Chair had this to say:
Friends and NadaChair Supporters,

As Katherine Krug's BetterBack KickStarter campaign winds down, I wish her nothing but success. It's great to see the concept I created evolve and its audience widen. For that, I say kudos.

Many of you have been with me since I started NadaChair in 1986. Without your endorsements and support, I would not be where I am today. You have helped tremendously. For that, I am grateful.

Today, I am asking you to pledge $1.00 to Katherine Krug's Kickstarter campaign https://www.kickstarter.com/projects/1123408990/betterback-perfect-posture-effortlessly/video_share. Why? This will allow you to comment on her page before the campaign closes tomorrow. Congratulate her and wish her well from all of us who have owned and benefited from this invention for years or decades. We would like this to be our moment of warm congratulations to all the backers of this project who we hope will finally find Love-at-First-Sit.

If I am the "King of Slings," I think I might have met the "Queen of Midwives" in Katherine Krug. She leaves no doubt that the cord is cut. So now the time is finally right to raise a toast.

Here's to a bright future.
Chairs!
Victor Toso
NadaChair Founder

PS: For those who may feel the need to defend NadaChair, there is no need for any further defense. Thank you for your support.  From VentureBeat.com
A good posture is the best preventative medicine for back pain and BetterBack, according to many reviews and testimonials, works as advertised. Good posture has been proven by researchers to boost your mood, motivation, concentration, metabolism, immune system, and confidence. By retraining your body to have correct posture, many people will reduce or eliminate back pain. The best part is, it starts working as soon as you put it on and eliminates the need for special chairs. Wearing it for just 15-20 minutes a day should instantaneously correct bad posture. Better Back obviously proved there is demand for the product – they shipped over 20,000 on the Kickstarter alone – and it's readily available on Amazon.
My Take on Better Back
I have near constant back pain related to an injury I sustained over 20 years ago. To combat it, I have a stretching regimen I do every morning before I even get out of bed. We have a Tempurpedic mattress (a GODSEND) and I often wear my PostureNow to help sit up straight. I used to have a very expensive, ergonomic desk chair, but it fell apart recently (after over 12 years and a lot of duct tape). Lately, I've taken to sitting on a yoga ball and typing on the coffee table for at least part of my day. When I saw BetterBack, I ordered one immediately!
What sold me was the idea that no special (or expensive) chair is required to get into a good posture position. I got the concept and wanted to try it. It's scheduled to arrive the day this episode airs and I'll have a review on the product on this site soon. Anything that helps me with my back pain is something I want. For that reason, I am IN!
Will Sharks Back this Business?
"Sales trumps all," as Mr. Wonderful once said. Better Back has sales, so Krug is in a good position with the Sharks right out of the gate. She also has a very big market and a modestly priced product that many people need. If the Sharks aren't worried about the Nada Chair controversy, then Krug should field multiple offers.
Mark may bow out, since it competes with PostureNow to a degree, but Lori is likely to jump on this, for the reasons I just mentioned. She outbid the other Sharks on Squatty Potty, which corrects posture while pooping, and she already has a non-competing back product in her portfolio (the aforementioned Lo-Bak Trax which was NOT on Shark Tank). This product SCREAMS "Lori" and in the promo video for this episode she says "it's deal time!" I think this is the deal she makes.