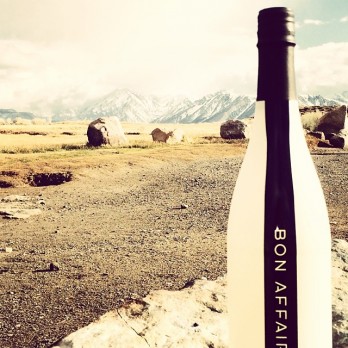 "Winetrepreneur" Jayla Siciliano pours it on when she pitches Bon Affair, her line of wine spritzers with half the calories of "regular" wine, in Shark Tank Episode 525 on May 9. Jayla was a global product specialist for Burton Snowboards and Diesel Footwear, she hit a lot of social mixers. After spending some time in China, she realized she wanted a lighter, everyday wine option and Bon Affair was born.
Bon Affair is a combination of wine and purified sparkling water that's loaded with electrolytes and has half the calories of a regular glass of wine. There are two "flavors," Sauvignon Blanc and Syrah. Jayla believes the lighter wine fits healthy lifestyles like hers and wants it to be "where vice meets virtue." The product is available in Southern California Whole Foods, Albertsons, Nordstroms, and in 43 states via Amazon.
She's likely looking to the Sharks for help with licensing or distribution.
Bon Affair Shark Tank Recap
Jayla enters the Shark Tank seeking $150,000 for 35% of her business. She tells her story and gives her pitch then hands out samples. Kevin and Barbara have had or made wine spritzers before. She's in 10 California Whole Foods and in the past six weeks she's sold $11,000 worth of product. She has $35,000 of her own money in the business and $450,000 from other investors at a $2.6 million valuation. The investors kicked in another $150,000 after their bottler screwed up and caused a $100,000 loss due to leaky caps.
Daymond thinks she'll need another $5 million to get going; he's already lost money on something similar, so he's out. Robert has concerns about the valuation; he's out. Kevin advises her to talk to Costco but he doesn't think this product is worth his time and energy; he's out. Barbara doesn't think Jayla has proven the concept; she's out. Mark offers what Jayla was asking for, $150,000 for 35% and she accepts.
Bon Affair Shark Tank Update
The Shark Tank Blog constantly provides updates and follow-ups about entrepreneurs who have appeared on the Shark Tank TV show. Jayla did a deal with Mark and she details the company's progress in Beyond the Tank Episode 105. For a while, the product was for sale on Amazon. They offered their distributor equity to incentivize more sales. Apparently, that didn't work as the company closed its doors in 2016, just three years after taping Shark Tank. As of October, 2021, she started Atlas Group, a "company that invests in short-term rentals and offers a boutique, customized approach to setting up and marketing investment properties."
Posts About Bon Affair on Shark Tank Blog
Preview Interview with Jayla Siciliano
Bon Affair Information
Video