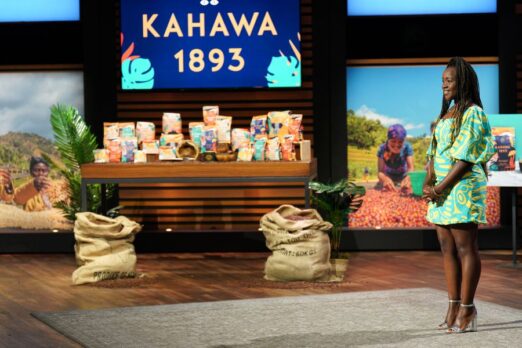 Calling it Kahawa Coffee is repetitive. Kahawa means coffee in Swahili, the native language of Kenya where entrepreneur Maggy Nyamumbo hails from. She's a third generation coffee business person in her family. He grandfather started a small coffee farm while working for the colonial government before Kenya's independence. Maggy didn't set out to follow in her grandfather's footsteps, she was a Wall Street whiz kid after getting her Harvard MBA, but she always had coffee in her blood.
She recalled her youth when she and her mother would harvest coffee beans on the family farm. What she remembers is that women do most of the work, but they don't own the farms. She wanted to reverse that inequality through entrepreneurship; that's why she started Kahawa 1893. The "Kahawa" is for coffee and the "1893" refers to the year coffee farming began in Africa. Maggy donates a portion of her proceeds to the female farmers back in Kenya and lets her customers tip the farmers as well.
What Maggy does is get the finest Kenyan coffee, ships it off to San Francisco to be slow roasted in small batches, then packs it up and sells it. Kenyan coffee is regarded by coffee aficionados as the finest in the world. The combination of climate, soil and altitude make for coffee beans that roast up into complex, aromatic and delicious coffee.  She sell five varieties, plus limited edition "drops" when proprietary beans become available. Kahawa also sells tea and single serve coffee that comes in a tea bag. She's had some success getting into some regional grocery chains, Target and Wal Mart, now she wants a Shark to help her get on the shelves everywhere.
My Take on Kahawa Coffee
I LOVE my coffee and consider myself a coffee aficionado. I usually brew mine at home and I have 5 or 6 choices at any given time. Most of the time I drink Colombian coffee, but when I want a treat, I go for Kenyan. It's that good and I'm sure Maggy's is too.
The one thing about Kahawa 1893 is it's a tad pricey compared to a lot of the other Kenyan brands out there. There are brands more expensive too. If it's that good, I don't mind paying for it and neither will other true coffee lovers. People will also like the social mission of the business. I'm in.
Do Sharks Like This Coffee?
Maggy has a pretty big obstacle to overcome in the Tank. Coffee is a commodity and a very competitive business. That said, this is a premium brand that's already made inroads into retail. Many big companies are welcoming black owned businesses and brands into their stores and that sentiment could help Maggy.
Way back in season 4, Mark invested in Misto Box, a coffee subscription business that curated coffee from all over the world, including Kenya. That company was acquired in 2020. That said, Misto Box is the ONLY coffee business to get a deal in the Tank. Perhaps Mark will take a flyer on Kahawa 1893 since he had such a positive experience with Misto Box.
Mr. Wonderful will undoubtedly tout his palate and claim he's "Mr. Coffee." I don't think he makes and offer though due to the commodity nature of the business. Lori, Emma and Robert won't bid either. I'm afraid it's Mark or no deal for Maggy.