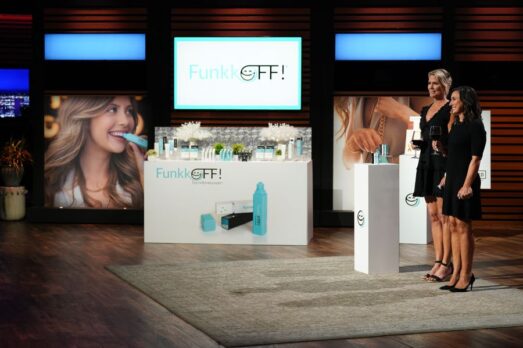 Joelle Flynn came up with the idea for FUNKKOFF at a wine tasting. She goes to a lot of wine tastings and used to carry a toothbrush and toothpaste to get the red wine stains off her teeth between stops. She wanted a lipstick-sized tool that would do the same thing, so she called up her life long friend, Sonia Hounsell, and asked her to help. She said "yes" and FUNKKOFF was born.
It's about the size of a lipstick case. When you open it, there are bristles inside. When you twist it, a little bit of the company's vegan toothpaste (which they also sell) squirts out and you can quickly do a touch up on your teeth. Each unit lasts about 30 uses and costs $22.
The ladies raised almost $75,000 on Kickstarter and IndieGoGo to get the first run of products out there. That was in early 2020 and, as most people know, the Covid 19 pandemic screwed a lot of things up. Products weren't delivered until late 2021, nearly two years after they got funded. The business is still very much in start up phase and they likely want a Shark's help blowing the business up.
My Take on FUNKKOFF
I think this is a clever idea. I've been in situations where I needed a toothbrush while away from home. Thankfully, I always have one in my car, but a pocket sized doo-dad like this would be convenient. I'm intrigued by their toothpaste too. They describe it as having no BPA's, no sulfates, no dyes, no artificial anything and no fluoride."
When I first saw this product, I thought it was single use and that turned me off. I later found out you can refill them (hence the toothpaste for sale) and that made me like it much more. I could see using this while out for the day or night as a way to get the crud out of my teeth without schlepping to the car in search of my toothbrush. It might also be good for camping. I'm in.
Will Sharks Get Funky and Invest?
While I think this is a handy little item, I think it's more geared to women. That's not to say men wouldn't use it, but I think more women would have it as a purse item. That said, the Sharks will like that it has multiple patents and that there's nothing else like it out there.
If margins and sales are good, we will see some offers. While more than one Shark may bid, I think this one is right up Lori's alley. It's a "hero" product: it's inexpensive, easily demonstrated and appeals to a mass audience (who doesn't want clean teeth). This could even garner Lori's "golden ticket" where she gives the entrepreneur exactly what they come in asking for.