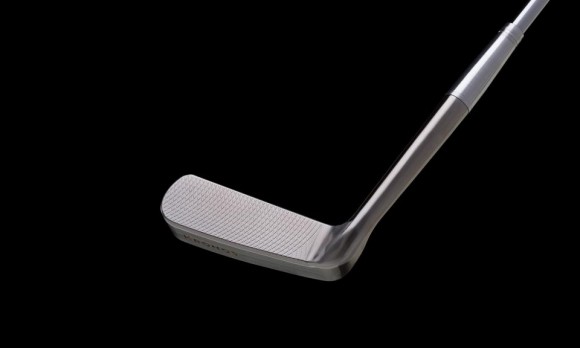 Phillip Lapuz and Eric Williams hope the Sharks are on par with their business, Kronos Golf, that manufactures precision crafted golf putters in the second part of the season 6 premier, episode 602. The pair grew up in San Diego county, sometimes called "the epicenter of the club making industry." Lapuz learned putter milling at a local machine shop that made putters for Callaway, TaylorMade, Titleist, and other big and small golf brands.
The secret to the Kronos Golf putters is the club heads are machined from a solid piece of metal, unlike many brand name putters which are cast, stamped or made up of several pieces of metal fastened together. Machining and hand finishing a putter head is more expensive, but the end product is superior.
Kronos Golf putters put the mass of the putter behind the ball for a surer putt. The sight lines of the handle are a bit off-center, too, allowing for the golfer to properly strike their putt. Kronos Golf views its putters as precision instruments, but they're quick to say they won't make you a better golfer: "Kronos will never promise that our clubs will make you a better golfer. Only you can make yourself a better golfer. Only you can improve through practice.
My Take on Kronos Golf
I play golf once or twice a year. My parents play 4-5 times a week; they're Kronos Golf customers, not me. People who are serious about golf will drop $300-$400 for a good putter in a heart beat. True golfers appreciate good clubs. While I've never tried a Kronos Golf putter, I've read a bunch of reviews and people rave about them. I am confident they are the quality club Kronos claims them to be.
I do appreciate anything that's made by hand. Craftsmanship is rapidly becoming extinct in this age of outsourced and automated manufacturing. Any product that is hand crafted immediately appeals to me, whether it's a golf club or beer! Like I said, I'm not a Kronos customer, but I think they will have a lot more customers after their appearance, deal or not.
Are Sharks on Par with Kronos?
Kronos has a great product, but I don't think it's a good Shark Tank product. Golf may be a big industry, but it's crowded and it's ultimately a niche market. Kronos Golf is a niche within a niche; this is why I don't think the Sharks will bite. I can't see Lori or Barbara going for it. Robert and Mark will give the "I'm not the right partner" excuse. The only way I see Kronos making a deal is if Mr. Wonderful does a royalty play, but they'd be fools to take that.