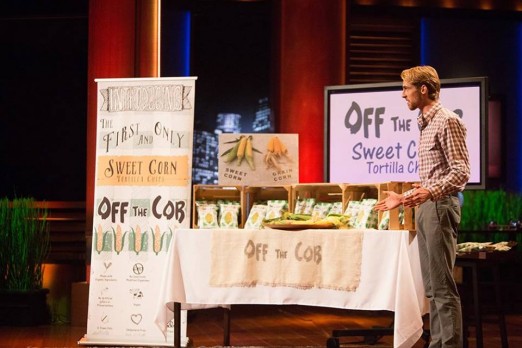 "Snacktrepreneur" Cameron Sheldrake hopes the Sharks like Off the Cob, his line of organic sweet corn tortilla chips, when he pitches the snacks in Shark Tank episode 612. Cameron is a graduate of Babson College's Business School and the son of third generation family farmers. He combined his business acumen he learned in school with his life experience as a farmer to create Off the Cob Tortilla Chips.
With $20,000 in seed money he won in Babson College's business plan competition and an additional $15,000 raised on Kickstarter, he produced the first batch of tortilla chips to sell in Boston area Whole Foods Markets. Off the Cob Tortilla Chips are made from sweet corn, which makes a lighter, sweeter chip that has more vitamin A and anti-oxidants than standard tortilla chips. He uses non-GMO, organic, whole grain sweet corn grown throughout the USA to make his chips.
He started the business in December 2012 and expanded from offering his chips at Whole Foods to dozens of small, local markets and Wegman's. They're currently available primarily in the Boston, MA area and in greater Ithaca, NY with a smattering of other locations in New England and upstate New York.
The Off the Cob website had a massive overhaul a couple of weeks prior to the air date and moved to the Shopify platform. Like other "snacktrepreneurs" appearing on Shark Tank, he likely needs funds to fill orders.
My Take on Off the Cob Tortilla Chips
Who doesn't like tortilla chips? I bet they are quite tasty! I may just have to run out to my local Whole Foods and pick some up. Like most Americans, I love munching on chips while watching football or attending holiday gatherings. Sometimes, we even have chili nachos for dinner. The idea of a better tasting, healthier brand of tortilla chips appeals to me. A lot of the chips out there taste like corn flavored cardboard. The only drawback I see is I'd have to hide them from my gluten sensitive daughter.
Mr. Sheldrake looks like he's going about his business the right way. He's positioning himself well in the space and he seems to be growing (pardon the pun) organically. As we saw last week with Pipsnacks, the demand for healthy "junk food" is growing and the Sharks seem willing to jump on the band wagon.
Will the Sharks munch on Off the Cob?
My Sharky sense is tingling on this pitch. I'm smelling a deal with Daymond for a number of reasons. First, Daymond has an affiliation with Babson College. He works with them on Start Up America projects and he's tight with some of the professors in the Entrepreneurial Studies department. Second, Daymond is "Mr. Shopify." Getting set up on Shopify is becoming more and more popular with a lot of businesses that appear on Shark Tank (because they do a good job and NEVER crash), but it can be a strong "Daymond deal indicator" if other factors fall into place.
Daymond said he wants to expand his food portfolio this season and Off the Cob fits the Daymond branding philosophy. Daymond also has connections with the Whole Foods people. The other Sharks may want to bite on this too, but my money is on a deal with Daymond. Tune in to episode 612 to see if I am right!
Related articles across the web