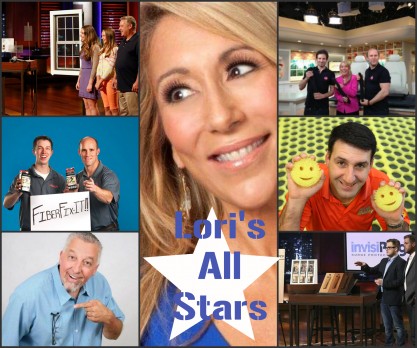 Lori Grenier has a special update segment in episode 613 called "Lori's All Stars." Six businesses Lori invested in are highlighted and they include some of the most successful Shark Tank products in the show's history. Lori's All Stars are: Scrub Daddy, ReadeRest, Drop Stop, FiberFix, ScreenMend, and Invisiplug.
Lori always says: "I know immediately if something is a hero or a zero," and these six businesses are definitely heroes! She has a knack for investing in businesses that feature mass appeal products and pumping them up to millions of dollars in sales through QVC and her many retail connections.
What makes Lori's All Stars Successful?
When you examine these six products, even though each is different, they all have several common denominators: each serves a basic consumer need, each is moderately priced, and each product is easy to demonstrate and understand. When these three ingredients are present in any product, Lori recognizes it immediately and invests.
Let's take a closer look at Lori's All Stars:
Scrub Daddy is a new twist on a ubiquitous kitchen item: the sponge. There are gazillions of scrubby sponges on the market, but Scrub Daddy can clean just about anything. It gets soft in hot water and hard in cold water for extra scrubbing power. The material Scrub Daddy is made from is a trade secret, making it nearly impossible to duplicate. As the most successful Shark Tank product in the show's history, it just goes to show even a simple item can be a big seller.
ReadeRest was Lori's first "home run" on Shark Tank. It's a handy little item for the hundreds of millions of people who wear glasses. There are hundreds of glasses cases and holders on the market, but the sheer simplicity of ReadeRest is its genius. Everyone who wears glasses can use one (or two or three), so the market is virtually infinite. Once again, a simple, easy to demonstrate and moderately priced item is a big hit!
Drop Stop is another mass appeal item. Everyone who has a car (heck, I own four) can use this product. It's a simple barrier to block the gap between a car seat and the center console. Anyone who's ever lost anything in that gap while driving sees the need for Drop Stop. It's not rocket science, it's an easy to understand product that fills a basic need. Drop Stop is selling millions of dollars worth of product and shows no sign of slowing down!
FiberFix is duct tape on steroids. It can fix just about anything from leaky pipes to broken bicycle spokes. Much like duct tape, this product will surely find its way into every toolbox and junk drawer in the country so it's at hand when needed. It's the ultimate do-it-all tape. When something like FiberFix comes along, it can change the way people look at simple repairs and when that paradigm changes, there's BIG MONEY to be made!
Invisiplug is another ubiquitous item nearly everybody has. The only thing that makes this product different from other power strips is the look. People need to plug things in, but if they want the plug to have more aesthetic appeal than the standard, white power strip, Invisiplug is the only option. The wood grained plug is attractive, inexpensive, and widely used; that's why they've sold millions of dollars worth of product.
ScreenMend is another home repair product nearly anyone can use. If you have screens in your home, you will ultimately need this product. The simplicity of the solution (heated wax holds the screen patch in place) is one of those "why didn't I think of that" ideas that Lori has a knack for identifying. ScreenMend went from a small, family, garage-based business to over $1 million in sales in just one year.
Lori Grenier may not be the richest Shark and she may not do the most deals in the Tank, but when she gets in on a deal, she goes all in and makes her business owners millionaires. There are already two season six companies she's invested in that will be added to the list of Lori's All Stars in years to come: Reviver and Squatty Potty. These deals are still in their early stages, but if Lori gets behind these products, the owners will be the next Shark Tank millionaires.
Related articles across the web