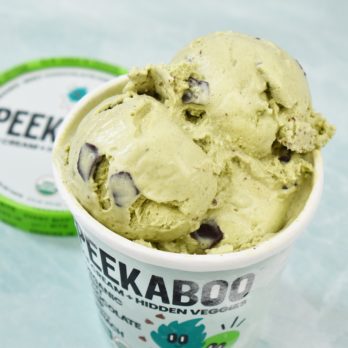 Peek a Boo Ice Cream "inventor" Jessica Levison has kids who are picky about eating their vegetables. She wanted to have a vehicle to get her kids to eat veggies without the complaining, so she started mixing vegetables with ice cream. What kid doesn't like ice cream? The idea was an instant hit with her kids and she thought it would be with other kids (and adults) too.
Levison, an attorney turned ice cream maker, left the legal/corporate world in 2008 when she opened a couple of ice cream shops in Florida. As the owner of two Serendipity Creamery locations in Surfside and Wynwood, she knew a few things about ice cream which helped her launch PeekaBoo in 2016. Her legal background didn't hurt either.
Peek a Boo infuses traditional ice cream flavors with veggies. Everything is organic and non-GMO too. The vanilla has zucchini in it, the strawberry has carrots, the mint chocolate chip has spinach. If you didn't know you were eating veggies in your ice cream, you wouldn't know you were eating veggies.
You can find Peek a Boo in a whole bunch of stores, including Safeway, Kroger, Whole Foods, and many more. At $10-$15 a pint, it's on the pricey side, but you have to pay for quality – and veggies. If you can't find it in a store near you, you can get it on Amazon. Jessica likely wants a Shark to help her accelerate her distribution growth. Will the Sharks eat these ice cream veggies?
My Take on Peek a Boo Ice Cream
We try and get our veggies wherever we can in our house. I buy pasta made from veggies, we drink V8 veggy drinks and we make veggy smoothies. There's also a serving of fresh veggies at the dinner table every night. Why not have veggy ice cream?
The only thing that scares me about this product is I'd eat too much of it. When something is considered "healthy," it makes it easy to rationalize eating a lot of it. I like ice cream, but I limit my intake due to the calories. Kids don't have to worry about that so much, so I am sure they eat it up. If I see this in the store, I am going to give it a try.
Will Sharks Eat These Veggies?
Levison strikes me as a pretty high-powered woman who knows how to move her product. It's a good product, too. It was voted best new ice cream product in 2018 by a leading market intelligence agency. Since this episode filmed in 2019 (it's a season 11 leftover), a Shark could have helped her accelerate growth through a deal. If they did, they had to live through a product recall on the Peek a Boo Mint Chip ice cream. The co-packer found traces of Listeria monocytogenes in the product and voluntarily pulled it. Nobody was affected adversely.
The fact that she was using a co-packer in New Jersey makes me think a Shark is involved. Jessica makes her own ice cream at her ice cream cafes and she started making the original batches of PeekaBoo in her stores. A move to a co-packer plus broad distribution across multiple big name grocers makes me smell a Shark.
Mark has been scooping up healthy food businesses the past few years, so he could bid. Lori has frozen food success and also likes healthy foods. Barbara also has her fingers in the food biz. Kevin disdains frozen products and Robert shies away from food products in general. Either Mark, Lori or Barbara will do a deal.