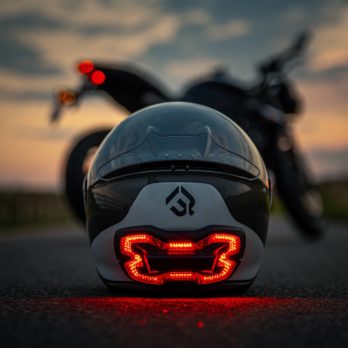 Henry Li and Alex Arkhangelskiy invented BrakeFree, a helmet mounted wireless brake light for motorcyclists, to make riding safer. Both men are avid motorcycle riders and they wanted a product that would stand out in the marketplace. After years of tinkering and developing their brake light, they went to IndieGoGo in 2017 to get pre-order funding. That was very successful: they raised $259,797.
The lights are wireless, LED lights with some very interesting features. The light up when braking, which is safer for the motorcycle driver. Motorcycle brake and signal lights are low to the ground and hard to see. With the lights on the back of the helmet, they are more visible to other drivers. What BrakeFree does that no other helmet mounted brake light does is intensify as the rider decelerates, whether brakes are applied or not. This added feature makes this product unique.
The company had some manufacturing issues associated with their crowd funding campaign, but they appear to have worked them out. Overseas manufacturing can be a difficult thing to navigate for a new business owner. Henry and Alex probably want a Shark's help with that, not to mention some cash for inventory.
My Take on BrakeFree
I've ridden motorcycles and I owned a motor scooter for a few years. I ALWAYS wore a helmet. I will never ride a motorcycle again after a friend was killed on one by a careless driver. It's fun having the open, free feeling of a motorcycle, but it's not worth it to me from a safety point of view.
Where I live, helmets are not required and many riders do not wear them. I just can't understand that, especially when we had 13 motorcycle fatalities in my city in 2019. While a helmet mounted brake light may increase safety, it's still not for me.
Will Sharks Brake Out Some Cash?
As I stated above, there were many delays in delivering the final product from the IndieGoGo campaign as manufacturing and shipping issues held some orders up until spring, 2020. They've since ironed out those kinks, but those kinks were not fixed when this episode (episode 1125) was filmed. This episode is airing in season 12, but was put together with businesses that didn't make the original season 11 cut. That could spell trouble for this pitch. If they are on Shark Tank and have many unfulfilled orders, the Sharks will not be pleased.
That said, if the Sharks look at the merits of the product, they will be impressed. It's really a marvel of engineering and it will likely save lives. The Sharks that may go for it will want to protect the technology before someone knocks it off.
I can't see Lori or Barbara bidding on this. Mark and Kevin may have interest, but Robert should be the "target Shark" for this pitch. I ultimately think they'll leave without a deal, unless they can convince Robert to invest.