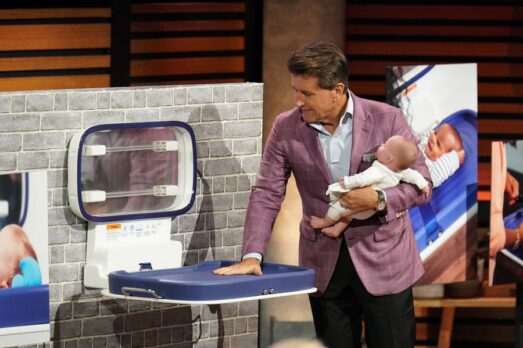 Addie Gundry and Brittany Hizer created Pluie Changing Tables out of sheer disgust. When the two entrepreneurial women started having kids, they realized how gross changing tables in public restrooms were. They'd go out with sanitizer and cleaning products in their diaper bags to sanitize changing tables when the need to use them arose. They felt that there had to be a better soluiton, so they decided to make one.
The solution is a UV-C lighting system that sanitizes the surface of the changing table in 60 seconds when it's closed. UV-C lighting is the same lighting used in operating rooms to sanitize surfaces. Their patented Pluie Changing Tables assure every baby has a clean, sanitized surface, free of bacteria and viruses. There's no need to lug around cleaning products either.
The company doesn't sell direct to consumer. They sell to airports, amusement parks, hospitals, stadiums, malls and other public places. It's Addie and Brttany's goal to have their Pluie Changing Tables in every public restroom in the country, if not the world. The fact that they're made of comfy water resistent foam is an added bonus.
My Take on Pluie Changing Tables
As a father of five, I've changed more than my fair share of diapers. Thankfully, those days are over. I agree with Addie and Britanny: public changing tables are disgusting. I shyed away from using them whenever possible. We did lug cleaning products in the diaper bag back in the day, but it was still disgusting. I almost puked once when I folded down the table and there was poop on it!
This is an idea that many publc spaces will embrace, especially in a post pandemic world. UV-C light kills coronavirus, something a lot of people are touchy about. The ladies will have to do a lot of selling, but I think this will be a successful product.
Do Sharks Like Pluie?
Robert will demonstrate the product on air with a fake baby. He's got two little ones at home, so he's experienced changing tables fairly recently. Whether the demo resonates with him remains to be seen. He'll probably make an offer though.
So will Mr. Wonderful. This has "royalty" written all over it. It's not something that will get Lori bidding however. Daymond and Mark could make offers if sales are good. I think these  women will catch a Shark tonight.