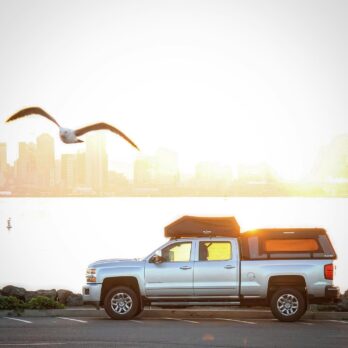 Flated truck bed covers are made from the same material as inflatable SUP's. That means they're strong and durable, which is what entrepreneurs Ken Heove, Monique Keefer and Ryan Guay wanted from their relatively new product. The three, plus another partner who doesn't appear in in Shark Tank episode 1419, started the company in early 2020. In doing so, they created a whole new category: inflatable truck bed covers and rooftop lockers. Unlike their "hard" counterparts, Flated truck bed covers, air matresseses and rooftop lockers deflate and can be easily stored when not needed.
The three presenters all have outdoor product experience and they enjoy outdoor activities. They initially wanted to make inflatable fishing rod holders, but that idea never got off the ground. Instead, they created their truck accessories so people could go out and camp (or whatever) on the weekend and transform their vehicle back to "normal" after the weekend was over. The durable drop-stitch construction assures that the bed covers will last for years. Heove gets millions of views on his Instagram page which has helped drive sales. He even rode one of the truck bed covers down the Colorado river after a commenter called the bed covers "pool toys."
Flated truck bed covers take up far less room in your house when not in use and they're not as unfriendly to landfills as hard plastic bed covers and roof top lockers. So far, they're the only business that sells infatable products of this type and they're promising to roll out more as 2023 progresses. With a surge in the popularity of camping, their growth is almost guaranteed.
My Take on Flated Truck Bed Covers
I used to have a pick up truck with a hard shell cap. The cap was a pain to take off and put back on. It took two people and the cap took up a lot of space in the garage. In short, it was a cumbersome at best solution for a truck bed cover.
It's been nearly 30 years since I camped in the bed of a pick up truck. While I'm not sure if I'll ever do it again, but I can see how Flated makes it a more convenient experience. The one concern I had is that they'd blow off while driving, but after reading many reviews, it doesn't seem to be an issue.
Will Sharks Like Flated?
Camping products are a hit and miss proposition in the Tank. I don't recall one that ever did a deal (or if they did it didn't close) except for Barbara's season 11's investment in Boho Camper Vans. Mr Wonderful won't bid because he thinks "camping sucks."
Lori isn't likely to make an offer either. That leaves Mark, Daymond and Robert. Mark invested in Tower Paddle Boards way back in season 3 and Flated uses similar fabric. That doesn't mean he'll make an offer, but at least he'll get it. If this threesome gets a deal for Flated Truck Bed Covers, it'll be from Mark, Daymond or Robert, but my "Spidey sense" is telling me they leave empty handed.