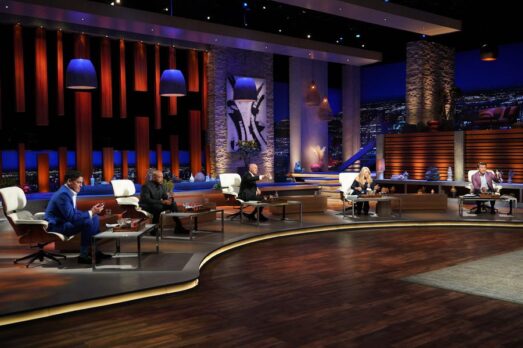 Mark, Daymond, Kevin, Lori and Robert make up the Shark panel for Shark Tank episode 1419. Together, they'll hear pitches from four entrepreneurs seeking cash and Shark mentorship. Which Sharks make offers tonight?
Addie Gundry and Brittany Hizer hope they can clean up in the Tank when they pitch Pluie, their patented changing tables that use UV light to sanitize diaper changing stations. Ken Heove, Monique Keefer and Ryan Guay hope to blow up a deal for Flated, their inflatable pick up truck caps, rooftop cargo lockers and truck bed air mattresses. Arsalan Khodabandelou pitches Woof, his app for pet owners that alerts emergency contacts if the pet owner is in an accident. Husband and wife team Michael Akindele and Ehime Eigbem give the Sharks a taste of Sweetkiwi, their nutrient dense frozen yogurt brand started in Nigeria.
Back in season 12, Daniel and Robert invested $100,000 for 35% of Tandem Boogie. The company makes a boogie board two can ride on. They've since rebranded to TANDM Surf. In tonight's update segment, we'll see how they're doing now.
The Sharks
---
Daymond John
Robert Herjavec
There are 26  Shark Tank Episodes for Season 14. This season features the six "regular" Sharks: Mark, Daymond Kevin, Lori, Barbara and Robert. There are two new guest Sharks for season 14: Actress Gwyneth Paltrow and Door Dash founder Tony Xu. Returning "recurring" Sharks are Emma Grede, Peter Jones, Kendra Scott and Daniel Lubetzky. Casting is currently closed, but it never hurts to get a head start on season fourteen! If you would like to appear on the show, check out our Auditions and Casting information.
Episode 1419 – The Shark Investors and Entrepreneurs
The Shark Tank Episode 1419 entrepreneurs will make their best pitch to the panel of five Shark investors who will use their own money if they choose to invest. The Shark Investors negotiate on the spot without any previous information, which differs from typical negotiations between venture capital investors and entrepreneurial start-ups.
Companies pitching the Shark Investors must go through a rigorous due diligence process before an on-air deal is completed. Shark Tank Blog follow ups help you keep track of the companies that end up successful and the ones that don't complete their deal.
Thank you for reading SharkTankBlog, the number one site for Entrepreneurs, Investors and Fans. Our content updates multiple times day, giving you the latest information on Episode 1419, Season 14, and all other seasons and episodes.
Episode 1419 Press Release
SHARK TANK: "Episode 1419"
Entrepreneurs come to the Tank eager to secure a deal with a Shark. This episode features pitches including a self-sanitizing baby accessory, a storage solution for road trippers, a pet safety service and a nutrient-dense sweet indulgence. First into the Tank are moms from Chicago, Illinois, with a solution to the dreaded problem of changing diapers in dirty public restrooms. Entrepreneurs from Gypsum, Colorado, Missoula, Montana, and San Marcos, California, present their automobile accessory designed to make road-trip traveling more convenient; while an entrepreneur from New York City hopes the Sharks throw him a bone after he pitches his smart service designed to bring pet parents peace of mind. Last into the Tank are entrepreneurs from Silver Spring, Maryland, who introduce their nutrient-dense sweet indulgence without the guilt.
In a "Shark Tank" update, the Clark family from San Clemente, California, update us on TANDM Surf, whose business is thriving in sales after securing a deal with Sharks Robert Herjavec and Daniel Lubetzky.
The Sharks in this episode are Mark Cuban, Daymond John, Lori Greiner, Robert Herjavec and Kevin O'Leary.