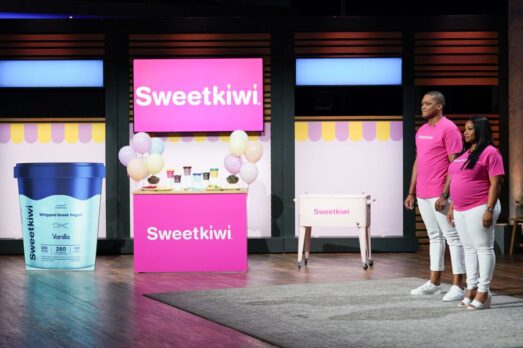 Husband and wife team Michael Akindele and Ehime Eigbem give the Sharks a taste of Sweetkiwi, their all natural, healthy frozen yougurt, in Shark Tank episode 1419. Eigbem started the business in 2011 after she reevaluated how she was eating after a "food scare" in 2009. She started learning about food that "supports our bodies development." Back then, it was an African company. She brought the brand to the USA in 2019.
Part of the success of Sweetkiwi is the ingredients. All ingredients are from "trusted farmers" and are clean and organic. They contain "functional nutrients like protein, probiotics, fiber, and immune-boosting superfoods." They're low calorie too! When she first started the business in Nigeria, she wanted to support the Nigerian dairy industry and local farmers. Her company mission was so impactful, she was named one of the top 100 most influential women in Nigeria.
As for the yogurt, it's whole greek yogurt whipped into a bunch of different flavors: vanilla, cookies and cream, chocolate hazelnut, hibiscus ginger, rasberry frose and mango mojito. They're available on the company website for $50 for a case of 6 pints. They're also in select Whole Foods and Wal Marts. Michael and Ehime likely want a Shark's help getting broader retail distribution.
Company Information
Video

Posts about Sweetkiwi on Shark Tank Blog
Sweetkiwi Shark Tank Recap
Michael and Ehime enter the Shark Tank seeking $250,000 for 5% of their company. They say people balance eating healthy and what tastes good. All the indulgent stuff people love isn't good for them. They introduce their product and say it supports gut health and wellness. The Sharks taste their samples and they like them. Robert likes the raspberry. Each pint has 25-40 grams of sugar.
Lori asks about their backgrounds. Ehime was raised in Nigeria and moved to Dallas. She explains how an illness made her eat healthier, but she struggled with desserts. When she realized how much sugar was in frozen yogurt, she started making her own at home. Eventually, she got educated about making the frozen yogurt. She had plans on opening a store in Dallas, but she went back to Nigeria for her brother's wedding. She decided to open a store in 2011 in Nigeria and grew the business to one of the biggest frozen yogurt chains in Africa. The African chain is not part of their deal.
They came back to America to start their business anew. They currently have product in 1700 stores. Sweet Kiwi launched in Wal Mart and Kroger nationally in 2022. So far this year (summer 2022) they have $650,000 in sales and they're on track to do $1.2-$1.4 million in sales. A pint sells for $4.97 up to $6.99. They are breaking even for now, but their focus is on building their brand.
Kevin offers $250,000 for 20%. Daymond has issues with the valuation; he's out. Currently, a pint costs $2.25 to make but they'd like to lower that cost with economies of scale. Michael explains how their pricing structure works. Their biggest objectives are marketing, branding and telling their story in a "cluttered world." That's what they plan to use the Sharks' money for. Lori goes out due to her relationship with Frozen Farmer. Mark says there's huge uncertainty and Michael didn't give a good answer as to what they'd do for marketing; he's out.
The couple keeps talking to the other Sharks and Mr. Wonderful abruptly goes out. Robert says business is about making money, not emotion. He's been looking too get into this space for a while and wants to learn it with someone. Robert says he can help them get to a $50 million to $100 million business. He offers $250,000 for 20%. They counter with $250,00 for 7.1% equity and 5% advisory shares. Robert counters with $250,000 for 16% and they accept.
Sweetkiwi Shark Tank Update
The Shark Tank Blog constantly provides updates and follow-ups about entrepreneurs who have appeared on the Shark Tank TV show. As of the first rerun of this episode in June, 2023, just three months after the original air date, there is no evidence the deal with Robert has closed. In addition to Wal Mart and Whole Foods, they are in Kroger, Mom's Organic Markets, Giant, and Ralph's.
The Shark Tank Blog will follow-up on Sweetkiwi & Michael Akindele and Ehime Eigbem as more details become available.