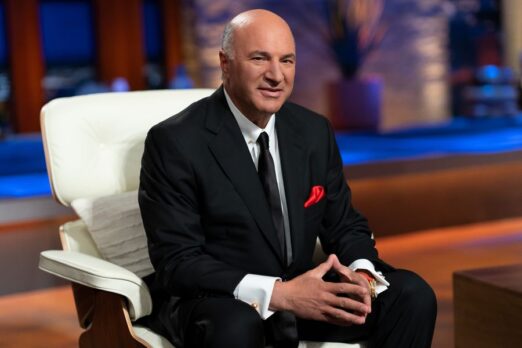 Shark Tank episode  1416 features Mark, Barbara, Kevin, Lori and Robert. Together, they'll hear pitches from four entrepreneurs seeking a Shark's cash and guidance. Will the Sharks make any investments tonight?
Loria Stern wants the Sharks to bite on Eat Your Flowers, her artisan, small batch bakery that ships sweet treats infused with edible flowers. Greg Demirjian wants a Shark on board for Surf Band Pro, a wristwatch like product that lets you easily store and dispense sunscreen while "on the go." Fiona Co Chan hopes to make up a deal for Youthforia, her line of plant based cosmetics that also act as skin care. Orthodontist Dr. Bobbi Peterson hopes to brush some Shark teeth with her Big Mouth Toothbrush, an electric toothbrush with an oversized brush head. Which entrepreneur(s) leave with a deal tonight?
Back in season 12, Mark and Lori invested $100,000 for 25% of Foam Party Hats, a fun and festive novelty hat company. At the time they taped their segment, the company only had about $400,000 in lifetime sales. In tonight's update segment, we'll see what the "Shark Tank Effect" did to their business over the past two years.
The Sharks
---
Barbara Corcoran
Robert Herjavec
There are 26  Shark Tank Episodes for Season 14. This season features the six "regular" Sharks: Mark, Daymond Kevin, Lori, Barbara and Robert. There are two new guest Sharks for season 14: Actress Gwyneth Paltrow and Door Dash founder Tony Xu. Returning "recurring" Sharks are Emma Grede, Peter Jones, Kendra Scott and Daniel Lubetzky. Casting is currently closed, but it never hurts to get a head start on season fourteen! If you would like to appear on the show, check out our Auditions and Casting information.
Episode 1416 – The Shark Investors and Entrepreneurs
The Shark Tank Episode 1416 entrepreneurs will make their best pitch to the panel of five Shark investors who will use their own money if they choose to invest. The Shark Investors negotiate on the spot without any previous information, which differs from typical negotiations between venture capital investors and entrepreneurial start-ups.
Companies pitching the Shark Investors must go through a rigorous due diligence process before an on-air deal is completed. Shark Tank Blog follow ups help you keep track of the companies that end up successful and the ones that don't complete their deal.
Thank you for reading SharkTankBlog, the number one site for Entrepreneurs, Investors and Fans. Our content updates multiple times day, giving you the latest information on Episode 1416, Season 14, and all other seasons and episodes.
Episode 1416 Press Release
Shark Tank: "Episode 1416"
Entrepreneurs come to the Tank to present their ideas to the Sharks in hopes of landing a deal, featuring an edible flower company, a sun protective solution, a clean makeup brand, and a modern dental tool used for oral care.
First into the Tank is a baker from Los Angeles whose creativity blossoms with her desserts made with a unique ingredient. An entrepreneur from Fairfax Station, Virginia, pitches a convenient solution aimed at those who enjoy staying active yet protected under the sun; while an entrepreneur from San Francisco hopes to revolutionize the beauty industry one blush at a time with her clean and sustainable makeup brand. Last into the Tank is an orthodontist from Brooklyn, New York, whose passion for oral health includes a one-of-a-kind product that targets oral and gum care. In a "Shark Tank" update, mother and son Grace and Manuel Rojas from Houston, along with investors Mark Cuban and Lori Greiner, update us on Foam Party Hats, handmade foam hats and party favors to bring the fun to any event.
The Sharks in this episode are Mark Cuban, Barbara Corcoran, Lori Greiner, Robert Herjavec and Kevin O'Leary.