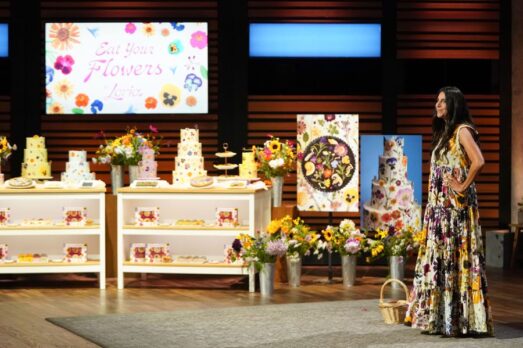 Loria Stern hopes a deal with a Shark will blossom for Eat Your Flowers, her edible flower treat business, in Shark Tank episode 1416. Loria grew up a a sort of hippy child and she always loved cooking, but it wouldn't become her calling until later in life. She was quite the tennis player back in the day. Loria was the number one 12 year old at the age of 12 and she went on to play Division 1 tennis at the University of Virginia. She even played a few professional matches before hanging up the racket. Throughout her entire life, she kept cooking and baking.
In 2010, she entered the culinary world but not by getting classically trained. She worked in restaurants, hotels and bakeries to learn all she could. In 2011, she took a course in medicinal and edible plants and began incorporating flowers into her cookies and posting them on Instagram. In 2016, Vogue magazine did a feature on her creations and she received a bunch of requests to purchase them.
That's when she started Eat Your Flowers. Loria sells cookies, tarts, cakes and pies that feature a variety of edible flowers. She also sells dried flowers that you can use in your own baked goods. She even wrote a cookbook. Apparently, the business is a success. She has four employees and pays them living wages. All her products ship nationally from her Los Angeles headquarters. She likely wants a Shark to help build out more bakery capacity.
Company Information
Posts about Eat Your Flowers on Shark Tank Blog
Flower Cookies by Eat Your Flowers
Eat Your Flowers Shark Tank Recap
Loria enters the Shark Tank and says you  can not only stop and smell the roses, but you can eat them too. She shows the Sharks her baked goods decorated with edible botanicals.  "Everyone loves flowers," she says, "and everyone loves baked goods." She's combining the two to create something truly unique. She also sells edible flowers for decorating and edible "flower-fetti" for sprinkling on salads and more. Loria says her business is blooming; she' seeking $250,000 for 12% of her company.
The Sharks sample Loria's shortbread cookies and crackers. Lori says the cookies are good. All the Sharks like them. Barbara asks how she came up with the idea. Loria says she grew up in a small town and talks about her background in tennis. She was cooking and baking for the pros at the tennis club and that brought her the most joy, so she trained to be a chef. She was a private chef and caterer. Now she runs a successful baking company out of a commercial kitchen with a staff of bakers.
Kevin asks about sales. Lifetime sales are $2.2 million. In 2020 she did "just north of $430,000," in 2021 she did "just north of $750,000" and in 2022 she is on track to do $1 million. Sales are direct to consumer. A box of cookies costs $7 to make and they sell for $50. Last year (2021) she rprofitted $330,000. She never set out to start a business, she was making food and her pictures went viral on Instagram. Pictures of her food were featured in Vogue, Oprah, the New York Times and many other publications. Loria says she wants a Shark for a mentor.
Robert says Loria has a beautiful, artisanal product, he asks if she'll lose some of that with scaling. Loria says she sees opportunity being in places like Starbucks. Kevin says there are a lot of competitors, but she makes money because she's got a premium product. He offers Loria $250,000 for 25%. He wants to keep the brand premium because Loria can't compete in a lower priced space.
Lori thinks the cookies are beautiful, but the business isn't for her; she's out. Robert says she's done a great job creating a brand, but he doesn't see the investible side of the business; he's out. Mark says Loria's story is the brand, but the business isn't for him; he's out. Loria tells Barbara she wants to create a line that could be sold in Whole Foods; she's not in retail now. Barbara likes Loria's ambition. Loria says she needs an operations manager which is what she's use some of the $250,000 for. The rest would be used for developing CPG products. Barbara says people are the most important part of any business. She offers $250,000 for 15% and Loria accepts.
Eat Your Flowers Shark Tank Update
The Shark Tank Blog constantly provides updates and follow-ups about entrepreneurs who have appeared on the Shark Tank TV show. The first rerun of this episode is in June, 2023 – a little more than 3 months after the original air date. At this time, there is no evidence the deal with Barbara closed.
The Shark Tank Blog will follow-up on Eat Your Flowers & Loria Stern as more details become available.