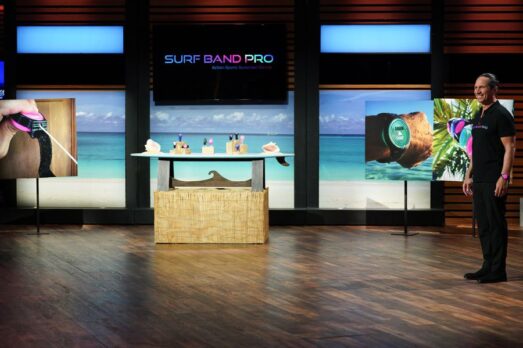 Greg Demirjian seeks an investor for Surf Band Pro, his wristwatch-like device that stores and dispenses sunscreen, in Shark Tank episode 1416. The product is a spin off of his previous invention called "WearSpray." During the pandemic, Greg wanted a convenient way to dispense hand sanitizer gel. After a lot of testing and prototypes, he came up with the product. The WearSpray also dispenses bug repellant.
One day, he was out hiking and he got a cut. While cleaning it with hand sanitizer, he thought "it would be cool if I could get this to dispense sunscreen." With a little redesigning to accommodate a thicker liquid and a stronger wristband, he was in business!
The product is refillable and secures to your wrist with a Velcro strap. They come in pink, blue or black. They're only $19.95. It's unclear whether just the Surf Band is available for the Sharks to invest in or if his other inventions are included. Either way, he'd love to have a Shark on board.
Company Information
Video

Posts about Surf Band Pro on Shark Tank Blog
Surf Band Pro Shark Tank Recap
Greg enters the Shark Tank seeking $150,000 for 10% equity in his company. Greg says he's been surfing his whole life and he's challenged by 3 things: Sharks, drowning and sunburn. His sunscreen washes off in the surf and he ends up burning. Any sport that requires tight fitting active wear, like wetsuits, don't have pockets for sunscreen. That's why he invented his product. He demonstrates it for the Sharks and says "it's magic."
The Sharks examine their samples and Lori asks if there is anything else out there like it. Greg tells her it's patented. The patent is for the valve mechanism which 15 or so industrial designers told him couldn't be done. When Kevin asks about sales, Greg says he just started manufacturing them a month ago. He's sold around 200 units. He put $150,000 of his own money into the business.
Each unit costs $5 landed. They wholesale for $9.95 and retail for $19.95. Barbara thinks it's a competitive market; she's out. Mark thinks it will be a hard sell because you need to demonstrate it; he's out. Lori thinks it's a good idea but he needs help marketing it; still she goes out. Kevin says he should call it "Squirt Master Pro." He says Greg should be demonstrating it on Tik Tok and Instagram, but it's not a business for him; Kevin is out. Robert thinks it's a clever product, but it's not for him; he's out.
Surf Band Pro Shark Tank Update
The Shark Tank Blog constantly provides updates and follow-ups about entrepreneurs who have appeared on the Shark Tank TV show. In the months following the original air date, Greg added bezel bands and silicone bands to the line.
The Shark Tank Blog will follow-up on Surf Band Pro & Greg Demirjian as more details become available.