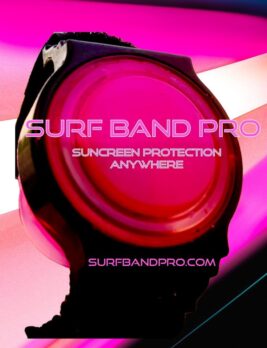 SurfBand Pro is for people who spend a lot of time outdoors and require sunscreen. If you fish, hike, surf or whatever, you need protection from harmful UV rays. Sometimes, lugging a bottle of sunscreen along is a tad cumbersome, so a guy named Greg Demirjian invented a wristband that dispenses sunscreen. It's actually similar to another product he invented called WearSpray, a wristband that dispenes hand sanitizer he invented during the Covid-19 pandemic. Greg will be pitching his invention to the Sharks in Shark Tank episode 1416.
All it took to switch out the WearSpray for the SurfBand Pro was th make the dispensing mechanism capable of handling a thicker liquid. Surfers love the product because there really isn't any storage space for sunscreen on a surfboard. The bands come in blue, black or pink. Since it's refillable, it can be used again and again. At $19.995, it isn't going to break the bank either.
Greg also has a social mission. His sister company, WearSpray, has a product called Bug Band. It's similar to the SurfBand Pro, but it dispenses bug reppellent. Greg's partnered with United to Beat Malaria to raise funds and awareness for malaria prevention. Like Greg's other products, it's refillable and can offer 60-90 applications of bug spray per refill.
My Take on SurfBand Pro
This is a handy little gadget. When I first saw it, I thought it was a single use product, but when I found out it was refillable, I was sold. While I don't surf, I do get out on the water a lot in the hot Florida sun where it's MANDATORY to protect yourself from UV rays. I usually wear a dryfit long sleeve shirt and hat, but I apply sunscreen to my legs.
Lugging a bottle of sunscreen along has never been a problem for me, but the SurfBand Pro is a cool alternative. Since it's only 20 bucks, it'll probably make its way to my boat bag (or wrist). It's a cool Father's Day or Mother's Day gift for outdoor enthusiasts too. I'm in.
Will Sharks Surf With This Pro?
It's becoming very common for Mr. Wonderful to offer royalty deals in the past few years. Hardly an episode goes by where he doesn't make a royalty offer. This product can't cost too much to make, so there's room for royalties. Greg should seriously consider it if the margins are there.
Mark will likely call it a "product, not a company." Robert, Lori and Barbara could make offers too. Robert likes out door products, but his offers are often "too Sharky." Barbara usually invests in the entrepreneur, so if she likes Greg, she could make an offer. The same goes for Lori if she feels it's a "hero." I expect offers here,b ut will Greg pull the trigger on a deal?