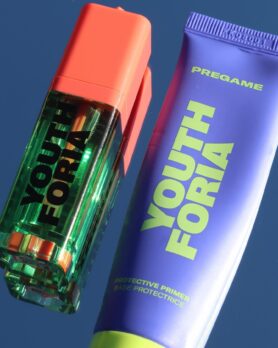 Youth Foria Makeup creator Fiona Co Chan created her line of makeup to solve a problem she had: sha fell asleep in her makeup a lot. That's not good for your skin. Most makeup has a lot of artifical ingredients that clog up your pores and make your skin cruddy if you fall asleep in it. She set out to solve that problem with plant-based makeup that contains no petroleum products or nasty chemicals. She'll pitch her products in Shark Tank episode 1416.
The story of how she built this brand is quite remarkable. Launched in January, 2020, right before the global pandemic hit, she managed to be profitable in 9 months and get into every Ulta Beauty store in the USA in just 18 months. She did it with viral videos on Tik Tok and by engaging with her social media community on Facebook and Instagram. It's led to an ad spend strategy that's working: they test their ads organically to their community and if it performs well, they do some ad spend on it.
As for the products, the biggest seller is the color changing blush oil. It changes hues as it reacts to your skin's Ph levels. It also acts as a hydrating agent for your skin, so if you fall asleep in it, you'll get some bonus moisturizing! As for the "makeup you can sleep in" claim. Fiona tests every product by sleeping in it; she even gets her husband to do it. Youth Foria Makeup is a company experiencing exponential growth. Fiona likely wants a Shark to help manage that growh.
My Take on Youth Foria Makeup
I don't wear makeup, so I won't be buying this stuff, but at least one of my daughters does. In our house, we have the girls bathroom for my wife and daughter and the boys bathroom for me. The girls bathroom has all sorts of lotions and makeup on the counter and I noticed the blush on the counter for months. I was surprised to find Youthforia coming to Shark Tank!
My daughter buys a lot of stuff for her skin and she says she bought this "after seeing a video." She is truly Fiona's customer. She likes how it makes her skin feel after putting it on. The lip gloss is also in her backpack. If my kid is buying this stuff, it must be good. She doesn't buy crap for her skin. I'm in.
Do Sharks Like Makeup?
Makeup is a tough sell in the Shark Tank. Very few makeup companies get on air deals and many of those fall through in due diligence. While the Sharks will be impressed with Fiona's story, it may not lead to offers.
Mr. Wonderful won't make an offer. He hads the cosmetics space. Likewise for Robert and Mark. That leaves Lori and Barbara. If Fiona gets a deal, it will be with one of them. Both have invested in skincare products before, so if they like the skincare angle, they could make offers. If they don't, it'll be tough swimming in the Tank for Fiona.