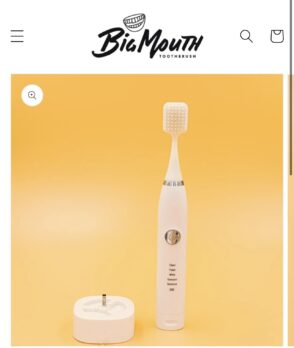 Big Mouth Toothbrush inventor Dr. Bobbi Petersen is an orthodontist who always recommends electric toothbrushes to her patients. Even so, she still noticed some periodontal disease among her patients, particularly her adult patients. That's when she started thinking about creating an electric toothbrush with an over sized brush head so the bristles would touch all surfaces of the teeth and gums at all times. One happy customer called it "a spa in your mouth." Dr. Bobbi will pitch her product in Shark Tank episode 1416.
Each Big Mouth toothbrush comes will 2 brush heads, a charger and a cover. They come in white or pink – 40% of the proceeds of the pink brush goes to breast cancer awareness charities. You can also buy replacement brush heads and a carrying case. They're available on Amazon and Dr. Bobbi's website.
Dr. Bobbi says her Big Mouth Toothbrush business is eating into her time she spends on her practice. She has a very successful practice and has done braces for celebrities and sports stars. Running a manufacturing business takes a lot of time and she's facing challenges with both the FDA and overseas manufacturers. She probably wants an investment to hire help and a Shark to help her with regulatory oversight and manufacturing.
My Take on The Big Mouth Toothbrush
I use an electric toothbrush with a water pic feature. My dentist recommended it. Coincidentally, I had my biannual cleaning the week this episode aired and I asked my dentist about it. She liked the concept and said if the water pick feature could be added, it would be superior to what's currently on the market.
I may actually get one of these, once the Shark Tank effect settles down a bit. I have soft theet and i have a very rigorous oral hygene regimen. I'm always looking for "something better." The Big Mouth Toothbrush could be it.
Do Sharks Brush Their Teeth?
My guess is Dr. Bobbi is going to come into the Tank with a fair valuation. If she does, she's going to field offers. Her professional credentials sholud impress too. I expect multiple offers.
Mark may shy away from offering since it's not in his wheelhouse. I fully expect Mr. Wonderful to offer a royalty deal; he also likes women owned businesses.  Barbara and Robert could jump into the fray too, but I expect Lori will make a deal.
This product has the markings of Lori's "heroes." It has mass appeal, is moderately priced and it's easily demonstrated. I think I've even seen electric toothbrushes on QVC before. I think Dr. Bobbi is going to leave the Tank with Lori as a new partner.