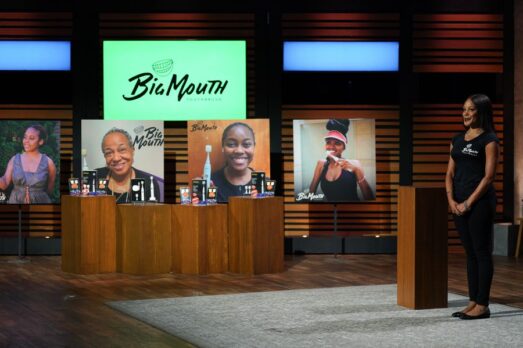 Dr. Bobbi Petersen hopes to brush some Shark teeth when she presents her Big Mouth Toothbrush in Shark Tank episode 1416. Peterson is a second generation dentist and the youngest of seven children. She was also the loudest, which provided the inspiration for her revolutionary electronic toothbrush. Dr. Peterson also happens to be the first black person to design an electric toothbrush.
She got the idea after noticing many of her adult patients with braces were developing periodontal disease. As a practicing orthodontist, she always recommends electronic toothbrushes. One day, she decided to design an oversized electronic toothbrush. She felt with the oversized brush head, people would at least touch every surface of their teeth and gums while using it. It took about a year to bring the brushes to market and they were such a big hit, she kept selling out.
A Big Mouth Toothbrush will set you back $99.99. For now they are available in pink or white. 40% of the proceeds from sales of the pink toothbrush will go towards breast cancer awareness – Bobbi is a survivor. Reviews of the product say it's "like a spa in your mouth. She's likely in the Tank to get help securing stable inventory.
Company Information
Video

Posts about Big Mouth on Shark Tank Blog
Big Mouth Shark Tank Recap
Dr. Petersen enters the Shark Tank seeking $150,000 for 10% of her company. She says 50% of the world's population suffers from gum disease and the mouth is key to your overall health. People with gum disease are at a higher risk for cardiovascular disease and stroke. Gum disease can also lead to tooth loss. She shows an electric toothbrush with a small brush head. Next, she dons a white jacket, tells the Sharks she's an orthodontist and reveals her product. The Big Mouth toothbrush covers more surface area and creates a massage like feel in the mouth.
The Sharks examine their samples and try out their toothbrushes. Lori says the five settings are more than she's ever seen on an electric toothbrush and she thinks it's "pretty cool." The large brush head cuts tooth brushing time in half. Kevin wants to know why "the big guys" wouldn't just put a bigger brush head on their electric tooth brushes. Dr. Peterson says she has a patent on the oversized brush head.
Each toothbrush costs $14 landed and they sell for $69.99. From January to July (2022), she has $60,000 in sales. For two of those six months she was sold out of product. When speaking about her background, she reveals she had her daughter as a teen but when on to finish high school, college, dental school and an orthodontic residency. She opened her own practice one week after completing her residency.
Lori likes the tooth brush, but thinks it's a crowded space; she's out. Robert thinks Dr. Peterson is impressive but he thinks it will be hard to compete; he's out. Mark says she's a double entrepreneur with her practice and the Big Mouth; he thinks she's going "too wide" and he goes out. Barbara wants to know what she'd use the money for. Dr. Peterson says she needs some staff and some space to package the products. She also wants to go into retail. Barbara admires Dr. Peterson, but it's not a business for her; she's out.
Kevin says it's a brutal market. He wants to know how he can get 10 times his money back. He offers $150,000 for 25% plus $5 per unit sold. Dr. Peterson doesn't like the offer. She counters with $150,000 for 20% plus a $2 royalty. Barbara says she'll take that deal and Dr. Peterson accepts.
Big Mouth Shark Tank Update
The Shark Tank Blog constantly provides updates and follow-ups about entrepreneurs who have appeared on the Shark Tank TV show. In the 24 hours following the original air date, the company completely sold out of toothbrushes. A month later, she was in pre-order mode with a 6-8 week backlog. As of June, 2023, she's back in stock. The first rerun of this episode also occurs in June, 2023. At this time, there is no evidence the deal with Barbara has closed.
The Shark Tank Blog will follow-up on Big Mouth & Dr. Bobbi Petersen as more details become available.