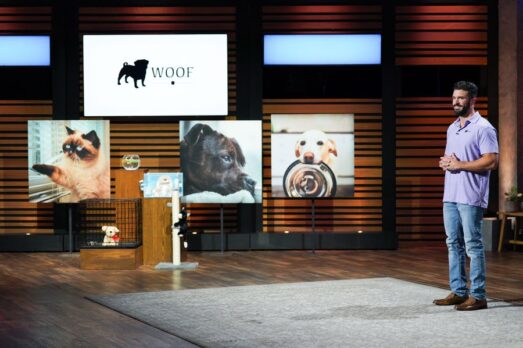 Arsalan Khodabandelou seeks a Shark for Woof, his pet well being app, in Shark Tank episode 1419. Arsy got  the idea for Woof after he was almost in an accident. He worried that if he were in an accident, his three dogs could be stuck in his apartment for days or worse. That's why he created this app, which, presumably, can work for any kind of pet.
The way it works is you set geo location timer for your home address. Say you work 9-5 and you set your timer from 8:30 to 6:30. If you don't return within the pre set time frame, the app "activates." First it will reach out to you, next to your pre-set emergency contacts and if nobody can be reached, the company will initiate a well being check to keep your pet safe. The app also creates a "pet passport" with all your pet's vital information for would be care givers. You can also email your pet's ifo to a pet sitter.
All these features cost $2.99 per month or $29.99 per year. Woof has been in business for four years and has a five star rating in the app store. They must be doing something right. We'll find out what they want a Shark's cash for when Arsalan "woofs it up" in front of the Sharks.
Company Information
Posts about Woof on Shark Tank Blog
Woof Shark Tank Recap
Arsalan enters the Shark  Tank seeking $100,000 for 10% of his company. He says Americans love their pets and over 70% of American households have a pet. He asks what would happen to those pets if their owner had a car accident, heart attck or Shark attack. That scenario terrifies him. That's why he created Woof, if something unexpected happens, your pets can be rescued.
The app uses a geolocation timer that starts a timer when you leave home and stops it when you return. If the timer expires, Woof's support structure kicks in. First, they try to contact you, then your emergency contact list, then they'll initiate a wellness check.
The app has been out 3 months and there have been 4 instances of support, none of which has escalated to a wellness check. If it did get to that stage, local authorities would take the animal(s) with them and place them in an animal welfare shelter until one of your contacts (or yourself) came to claim it. Robert calls them a concierge service and Arsalan concurs.
Arsalan almost got in a car accident and his dogs' lives passed before his eyes. He knew he could solve the problem with technology. The app costs $2.99 per month or $29.99 a year. He has 317 downloads and 102 subscriptions. He's only spent $2400 in marketing, the rest is bootstrapped. The app can be used for any pet, too.
Daymond has concerns about the name not being owned by Arsalan; he's out. Robert says he's catering to a small percentage of people who don't have friends or family nearby; he's out. Lori gets it, but it's not for her; she's out. Kevin sees the merit of the business but he's still out. Mark doesn't see a path to a big return; he's out too.
Woof Shark Tank Update
The Shark Tank Blog constantly provides updates and follow-ups about entrepreneurs who have appeared on the Shark Tank TV show. As of June, 2023, the first rerun of this episode is just three months after the original air date.  I reached out to Arsalan for subcriber info, and he told me about his progress. Since the original air date, he has 3000+ downloads and 500+ subscribers. He also got some seed funding in the amount of $50,000 which he plans to use to run ads to "drastically increase his user base." He says he hasn't spent a dime on advertising in several months. A redesigned version of the app is set to come out in July, 2023. Arsy says he's talking to multiple VC's about a big investment in Woof.
The Shark Tank Blog will follow-up on Woof & Arsalan Khodabandelou as more details become available.