e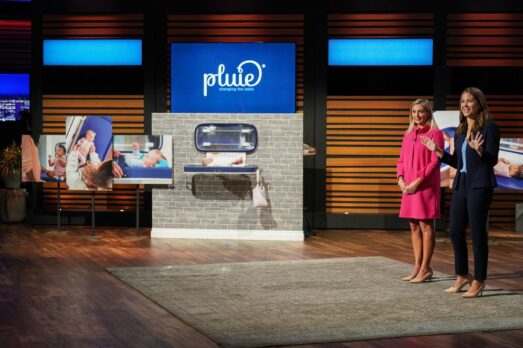 Addie Gundry and Brittany Hizer hope to clean up and get a deal for Pluie, their anti microbial changing tables for public restrooms,  in Shark Tank episode 1419. Addie is a former chef and food writer and Brittany is a former designer of exercise equipment. When they started having kids, they realized how disgusting public changing tables are, so in 2018, they started their business. They sell their patented UV-C light system that sanitizes the changing surface within 60 seconds to public spaces all over the country.
The way it works is simple. Once you're done changing your baby's diaper, close the lid and the UV light sanitizes the changing surface in 60 seconds for the next user. The Pluie kills 99.9% of bacteria and viruses including E. Coli, Influenza and Coronavirus. Using the product eliminates the need for chemical cleaners, reducing the amount of chemicals potentially left behind to cause irritation to a child's skin and staff cleaning time.
At $2899, it's meant for institutional use. There are Pluies installed in airports, amusement parks, hospitals, stadiums, malls and many other public spaces all over the USA. They also sell a changing table without the UV technology for places with no electric access for $1699. Both models feature a foam changing surface that is water-resistant, leakproof and easy to clean. The units mount on the wall and fold out for use. The ladies likely want a Shark to help them grow into more public spaces.
Company Information
Posts about Pluie on Shark Tank Blog
Pluie Shark Tank Recap
Addie and Brittany enter the Shark Tank seeking $500,000 for 5% of their company. They talk about how disgusting public diaper changing tables are. Addie recalls a time when her son had a diaper "blowout" and all she could find was a gross changing table. She didn't know when it was last sanitized or what germs were festering on it. Addie shows Pluie to the Sharks and how the UV light sanitizes it after each use.  The light eliminates 99.99% of bacteria and viruses in 60 seconds. There are handles to hang a diaper bag on it leaving mom's hands free.
Kevin says the sales cycle must take forever. The tables are in Dallas/Fort Worth airport, CVS, Equinox, Old Navy, Top Golf, Costco, Simon Property Group, Westfield, Lego Land and more. In total, they have 115 locations with 2-3 tables. They've sold about 300 tables.  The UV version costs $1312 to make and sells for $2699. Kevin thinks electrical upgrades and price will be a big issue.  The women say that hasn't been the case.
Brittany spent 15 years in product development with commercial fitness equipment, fishing boats and now diaper changing tables. She was the first female president of an $80 million fishing boat business. She met Addie through a former colleague. Addie was a physics major who dropped out of college to attend cullinary school. She worked as a chef in some fancy restaurants then went to work for Martha Stewart. She went back to college while working for Martha and completed her degree. Addie filed her utility patent in  2019 and raised $650,000 from friends and family at a $4 million valuation. In 2021, they raised $1 million at an $8 million valuation. In 2022, they raised $2 million at a $20 million valuation.
Robert says they raised $3.6 million at a $20 million valuation yet they're asking the Sharks for money at a $10 million valuation. Addie says they're looking for a strategic partner to help accelerate their growth. They have $1.4 million in the bank. The company has about $550,000 in pending orders. This year so far (summer 2022), they have $150,000 in booked revenue and they expect to lose about $500,000. They lost $1 million in 2021.
Kevin says they're basically pre-revenue; he's out. Daymond thinks big retailers will be cutting back in the next few years; he's out. Robert thinks companies won't spend five times the cost of something they already have; he says he doesn't like the valuation and goes out. Addie asks if he'd consider a lower valuation and Mark asks how low. Addie says they came into the Tank for accelerating their growth.   Mark can't get his arms around why people aren't ordering more and Lori says they already have changing tables in place. Mark says it doesn't add up; he's out. Lori says if she had a high-end business, she'd buy it, but it's a pricey product; she's out.
Pluie Shark Tank Update
The Shark Tank Blog constantly provides updates and follow-ups about entrepreneurs who have appeared on the Shark Tank TV show. In March, 2023, shortly after airing, the Indianapolis airport installed 50 units. The women also introduced the Pret Changing Mat, a portable neoprene changing mat, for pre- order in June, 2023.
The Shark Tank Blog will follow-up on Pluie & Addie Gundry and Brittany Hizer as more details become available.