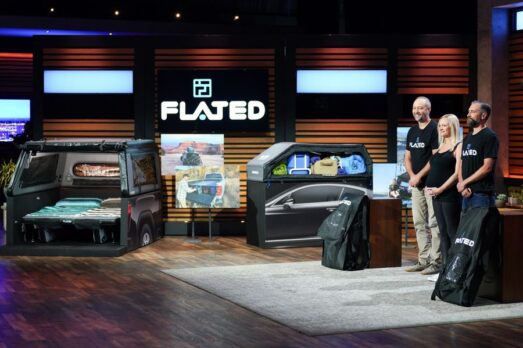 Ken Heove, Monique Keefer and Ryan Guay want to blow up a deal for Flated, the world's first inflatable truck topper and other inflatable automotive accessories line, in Shark Tank episode 1419. The three entrepreneurs and a fourth partner started the business at the beginning of the 2020 Covid-19 pandemic. They wanted to use the same materials used in inflatable paddleboards to create affordable and durable truck accessories. All three of the entrepreneurs have extensive experience with outdoor brands.
The secret sauce for all their products is they inflate and deflate easily for storage and use. The Air Topper is for people who want a covered space over their pick up truck bed but don't want a permanent cap. Their Air Carrier is a roof top "locker;" kind of like Thule racks, but inflatable. The Air Deck is an inflatable mattress that allows for storage under it. All products, when deflated, fit into a small duffle bag for easy transport and storage.
Pricing is varied depending on the product. For instance, the Air Topper is $1899 for a standard sized pick up bed which is comparably priced with a hard cap. The Air carrier is $629, also comparably priced with quality hard roof top carriers. The Air Deck at $549 is pricier than other pick up truck air mattresses. They currently sell from their website, REI.com and various auto after market specialty retailers. They likely want a Shark's help getting broader distribution.
Company Information
Video

Posts about Flated on Shark Tank Blog
Flated Shark Tank Recap
Ken, Monique and Ryan enter the Shark Tank seeking $350,000 for 5% of their company. They tell the Sharks the contents of their back pack can hold all their gear for their next road trip. Traditional carriers are a good option, but what do you do with  them once the trip is over. Next, they introduce Flated, the first rigid air carrier, topper and deck. They maximize storage potential, but minimize how you store the accessories when not in use. They stand toe to toe with metal, plastic and fiberglass toppers and install with no tools. The products are also patent pending.
The Sharks examine their samples and Lori asks what the weave in the middle is. Ryan says that's the drop stitch that essentially makes it a panel. Lori deflates hers easily. Robert asks if it's their technology and Ryan says they may have seen it in inflatable water sports products. Ryan says their patent is about using drop stich inflatable technology for usable space in automobiles.
Ryan gives their backstory. In 2009, the three of them were working at a premier paddleboard company. They were making inflatable paddleboards and the rest of the industry mocked them. Now, 90% of the paddleboard market is inflatable. The landed cost on the topper is $740 and it sells for $1800. The toppers account for 80% of sales.  A fiberglass topper would run $3500 and up. Flated toppers can be shipped anywhere in the country too.
Year to date (summer 2022) sales are $277,000 and they're projecting $600,000 in sales for the year. They also have purchase orders from a national retailer. Kevin questions the valuation and Daymond asks if they've raised any money. They raised $500,000 and put in $200 each of their own money. Ryan works the business full time, Monique works a job three quarters of her time and Ken works in Vail as a bellman.
Lori doesn't like the valuation and she goes out. Kevin thinks they're worth a million bucks. He cautions them about pricing themselves out of an investment; he's out. Mark says it's a "touch to trust" product which makes the "hockeey stick" sales growth difficult; he's out. Robert loves the product but he doesn't think they're grinding it out. He's out. Daymond offers $350,000 for 8% of every unit sold until he rcoups his money then the royalty goes to 5%. Mark and Kevin defend that offer. Ryan counters with 7% until Daymond recoups his money the 4% in perpetuity. Daymond declines. After a brief conference, they accept Daymond's offer.
Flated Shark Tank Update
The Shark Tank Blog constantly provides updates and follow-ups about entrepreneurs who have appeared on the Shark Tank TV show. The first re-run of this episode in June, 2023, is just three months after the original air date. At this time there is no hard evidence this deal closed. On the night of the original airing, Daymond Tweeted
Shout out to my newest
@ABCSharkTank partner @getflated! True Shark Tank fans also probably noticed the different type of deal structures we negotiated here. If there's one thing I know in business, it's licensing, and I'm looking forward to seeing how the Flated team grows.
They took Mark's advice and are doing more "touch to trust" events. The 4th generation air topper was introduced in May, 2023. The products are available at All American Truck and SUV Accessory Centers nationwide as well as many independent dealers. As of July, 2023, the company indicates they did close the deal with Daymond. Licensing deals are sure to be in the future. At this time, it has a $7 million valuation.
The Shark Tank Blog will follow-up on Flated & Ken Heove, Monique Keefer and Ryan Guay as more details become available.