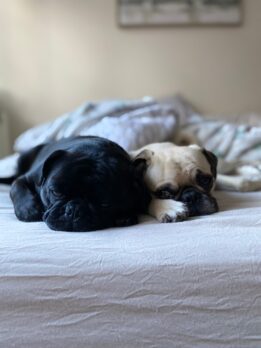 Woof App creator Arsalan Khodabandelou has three dogs that he loves. Who doesn't love their four legged friends? One day, he was almost in an accident and he got panicked. He worried what would happen to his dogs if he were unable to make it home for some reason. Theoretically, they could be there for days without food or water. It's a scary scenario!
That's why he made the Woof app. Think of it as an emergency contact management system for your dog. You simply enter all your pet's information like the food they eat, medications etc and it's stored in the Woof App "hub." You can easily share the info with your vet or pet sitter. The information is also used in an emergency situation.
The app uses location services to note when you leave your home. If you don't make it back within a designated time, the app calls you first. If you don't answer, the app will have Woof's support contact your designated "pet benificiary." If that doesn't happen, the support team will arrange for a welness check for your pets. This way if you're unexpectedly hurt or hospitalized, your pet will be OK. It costs $36 per year – not a lot for piece of mind about your best friend.
My Take on the Woof App
We have a WONDERFULL American Bulldog named Zoey who is the love of our lives. She even sleeps with us! We don't leave her alone often as I work at home, but there are times we go out for the day. I never thought about not being able to come home to her. We certainly have several friends who would gladly be her pet beneficiary. Whenever one of us goes out of town, we watch each other's dogs.
I think I'm actually going to download this!
Do Sharks Like Dogs?
Robert is the dog lover on the panel, so if Arsalan brings his pups into the Tank, he'll soften Robert right up. That doesn't mean he'll make an offer though. Daymond is also an animal lover. While Lori has invested in apps before, I don't think she makes an offer. Likewise for Mr. Wonderful.
The fact that the Woof App has 500,000 downloads could sway Daymond, Robert or Mark. If the valuation isn't out of whack, Arsalan will field offers.