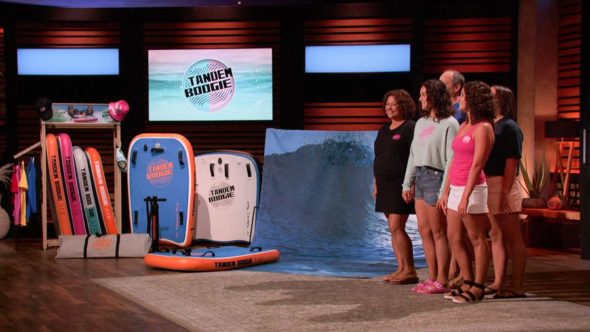 Manya and John Clark and their daughters Alleanna, Juliette and Lyla want to swim with Sharks when they pitch Tandem lifestyle in San Clemente. They're into paddle boarding, surfing, swimming, water polo and, of course, boogie boarding. The Clarks know watersports brings them closer together, so they wanted to make something two people could enjoy at once. They settled on making a two person boogie board and Tandem Boogie was born.
The family started designing the boards in 2019. They have traditional, foam boards, but their best seller is the AIR model, an inflatable "board" that uses cross-weaved, drop-stitch technology – the kind of fabric used in Avon boats. The guy who invented the original boogie board, Tom Morey, gives the product high praise. John knows about sales. He's still VP of sales for Infinite Storage Solutions, a shelving company, and he and his wife own a shelving business too. The business is a real family affair. Manya does manufacturing and operations, John does marketing and sales, Alleanna is the social media community manager, Lyla does apparel and merchandise, and Juju is the Chief Fun Officer.
They got the business going with a successful Kickstarter campaign that raised $31,230 in July, 2020 – in the middle of the Covid-19 pandemic. They have rave reviews and a lot of praise and exposure in their local press. Each Air board (that's all that's on the site now) sell for $459 but they're discounting them to $399 for Shark Tank. The family likely wants a Shark's help with manufacturing and inventory.
Company Information
Video

Posts about Tandem Boogie on Shark Tank Blog
Tandem Boogie Boards – Inflatable Boogie Boards
Tandem Boogie Shark Tank Recap
The Clarks enter the Shark Tank seeking $100,000 for 10% equity. They give their pitch and tell their story. At the time of taping, they were only in business 2 months with sales of $43,000 – $31,000 from the aforementioned Kickstarter. Each board costs $150 to make and they sell for $459. They want the cash for expanding their online presence and getting into retail stores.
Mark Kevin and Lori go out. Robert says the Clarks remind him of the Hamborg Family from Hamboards, a company Robert invested in during season 5. He asks John what percentage he thinks he wants for the $100,000 and John asks Robert if he'd consider a "tandem partner" in the deal. Daniel, the only other Shark left says he loves the product. He'll do it with Robert for 25%. Robert says he wants 35% and if Daniel wants in, that's fine. The family huddles up and agrees to the deal.
Tandem Boogie Shark Tank Update
The Shark Tank Blog constantly provides updates and follow-ups about entrepreneurs who have appeared on the Shark Tank TV show. This deal closed with Daniel, not Robert. The first rerun of this episode in July, 2021, is less than four months after the original air date. In that time, they rebranded themselves to TANDM Surf. They also introduced the inflatable TANDM Surfboard which can also accommodate 2 people. It can be used as a surfboard, stand up paddle board and even as a tow behind the boat float. It comes with a pump, bag and camera mount. The company also introduced a two person Stand Up Paddleboard and Kayak.
As of June, 2022,  authoritative revenue figures are unavailable.