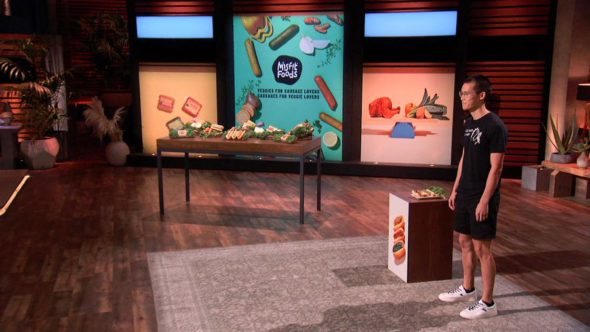 Phil Wong seeks an investor in Misfit Foods, his sausage business that uses misfit veggies and chicken, in Shark Tank episode 1216. The company started as a juice business, but they quickly realized that was only part of the equation. Meat is becoming more unsustainable every day and eating a plant based diet can really help the planet, but most people don't want to go all in.
That's where Misfit Foods comes in. They make sausage that's 50% veggies and 50% humanely raised chicken. There's also ground beef products that are 60% grass fed beef and 40% veggies. They work with other "Misfit" food companies to sell their products. If you remember Hungry Harvest from season 7, they sell "ugly produce" at a discount online. Wong works with and sells products through Imperfect Foods, Fresh Direct and Good Eggs which have similar business models. He sources his ingredients from small, family farms.
He also has products in Whole Foods and, of course, he sells on his website. On the website, you have to order in bundles. The ground beef bundle has 2 pounds of Beet Gochujang and 2 pounds of Lao Curry Carrot Ground Beef for $39.95. The sausage pack has 8 links each  of Kale Chimichurri Sausage and Sweet Potato Andouille Sausage for $29.95. Wong uses a co-packer that are fifth generation sausage makers. He likely wants a Shark to help fuel growth and distribution. Do Sharks like sausages?
Company Information
Video

Posts about Misfit Foods on Shark Tank Blog
Misfit Food – Half Veggie Meats
Misfit Foods Shark Tank Recap
Phil enters and says "let's talk about how the sausage gets made." He explains his products and asks for $250,000 for 5% of his company. That valuation causes some audible reactions from the Sharks. The Sharks try the samples laid out before them as Phil describes each flavor. Lori likes hers and she's impressed with the low sodium content.
He's in his first year and has  "just under" $800,000 to date and is on track to do $1.2 million in sales. 20% of sales are at Whole Foods and the rest is online. He raised $2 million to date which has the Sharks saying "whoa!" Each pack of sausage costs $2.91 and wholesales for $4.13; retail is anywhere from $5.99 to $7.99 per package. Gross margins are 29% – pretty slim, but marketing costs are less than 5% of sales. Phil claims the company broke even in May of this year (2020).
Kevin hasn't made money in this category; he's out. Robert is a vegetarian and thinks people want to go one way or another; he's out. Daniel asks Mr. Wonderful to "soften him up" on the valuation, which he does. Then Daniel offers $250,000 for 15%, which he thinks is generous. Lori offers $250,000 for 18%. Then Mark and Daniel team up on Daniel's original offer. Phil counters with $300,000 for 15% and Mark and Daniel do the deal.
Misfit Foods Shark Tank Update
The Shark Tank Blog constantly provides updates and follow-ups about entrepreneurs who have appeared on the Shark Tank TV show. At first, it appeared as if this deal closed and the company appeared on Daniel Lubetzky's website. It was later taken down when the deal with the Sharks fell apart. As of July, 2021, authoritative revenue sources are unavailable.
In January, 2022, the company announced it was re-branding itself to Phil's Finest – "putting the 'more' in  omnivore." In 2021, they sold over 2 million sausages and 150,000 patties. In the Spring of 2022, they got into Whole Foods, Good Eggs, Misfit Market and Sprouts. As of February, 2023, they are in Sprouts nationwide – over 370 stores. Annual revenue is $1.5 million and growing.
***I ordered the "Shark Tank Variety Pack" and so far I tried the Beet Gochujang and Beef and the Citrus Kale Sausage. Both were excellent.***