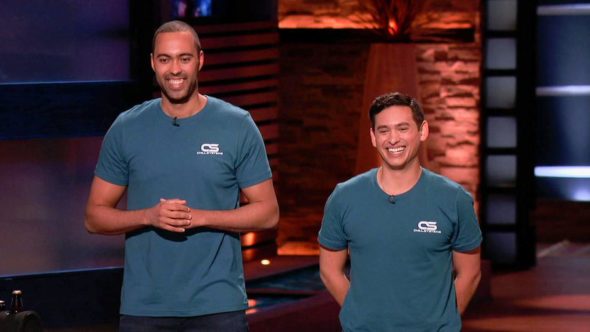 Chase Mitchell and Brian Bloch seek an investor for Chill Systems, their iceless coolers, in Shark Tank episode 1216. Chase spent his pre-Chill career as a sales associate at Google. Brian worked in various finance positions, including a stint at Apple Finance. Brian also owns Elbay Endeavors, a management consulting firm that works with start ups. That experience was likely very helpful in building the Chill Systems business.
The coolers themselves are rigid tubes with freezing material (think blue ice) inside. They all come with a carrying strap in a variety of colors and designs. There's also a pack you can carry your chiller in. They also sell insulated cooler bags with the same no ice technology. A standard chiller costs $49.95-$59.95 depending on color and/or design. The pack and bag are $69.95 each.
They got things started with a successful Kickstarter that funded $53,172 in August, 2018. They were able to ship by Christmas of that year but not every backer got theirs in time for the holidays. Now, they sell on their website, Amazon and wholesale for promotional products mostly. They likely want a Shark to help them with inventory and expansion into retail. Will a Shark think this is a cool invention?
Company Information
Video

Posts about Chill Systems on Shark Tank Blog
Chill System Coolers – Iceless Coolers
Chill Systems Shark Tank Recap
Chase enters the Tank with a Chill System cooler and Brian follows with a traditional cooler and bag of ice. He was "late" because he had to stop at the "inconvenient store" to get ice, which he promptly smashes all over the floor and haphazardly puts in the cooler. They're seeking $150,000 for 15% equity. The Sharks have samples with chilled drinks on their tables.
They tell Mark their product costs are awful – they cost $18 to build. Ice is their number one competitor, they tell Lori. Things go downhill from there. The Sharks aren't buying the sustainability angle and they say there are other coolers with built in chillers that hold more beverages. Daniel says the product doesn't stand on its merits. Robert says their story ha so many lapses of credibility. Kevin flat out calls it a bad idea. There isn't a hint of a deal here – all Sharks are out.
Chill Systems Shark Tank Update
The Shark Tank Blog constantly provides updates and follow-ups about entrepreneurs who have appeared on the Shark Tank TV show. The first rerun of this episode in July, 2021, comes less than four months after the original air date. The company is still in business and is very active on social media. Authoritative revenue data is unavailable at this time.
As of September, 2022, the website is dark and social media hasn't been updated since July, 2021. The coolers are also "currently unavailable" on Amazon. Chase's LinkedIn profile indicates they shuttered the business in January, 2022.