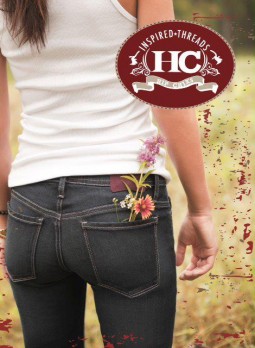 Premium jeans for women are the latest clothing related business to wade into the Shark Tank when Dallas area entrepreneurs Aimee Miller and Megan Jackson-Carreker pitch Hip Chix Jeans to the Sharks in episode 416. Blue jeans are a ubiquitous and uniquely iconic American apparel; just about everyone owns a pair of jeans (or two). Men and women love their jeans for their comfort, but jeans for women must take style into account as well.
As native Texans, Aimee and Megan always liked their jeans, but they set out to design premium jeans for women that fit their exacting standards. One criteria are their jeans needed to be comfortable in Texas heat, so Hip Chix are light-weight denim that's pre-washed for a supple, yet breathable fit. Jeans for women need a bit more style and panache, too. Aimee and Megan spent four years perfecting the fit and look of Hip Chix to be "sleek, soft, comfortable and stylish denim that gives girls the ability to express themselves through their sexy personality." After they were happy with their design, they started Hip Chix in 2011 and were soon featured in several Dallas area shops. Hip Chix jeans are made in America, making them a premium brand with a patriotic feel.
Jeans for Women a big Market
Americans spend close to $500 million a year on jeans. Jeans for women account for a little more than half of that number. A recent survey by ShopSmart found women spend an average of $34 for a pair of jeans and only 10% of women would be willing to spend more than $100. Hip Chix jeans will set you back $187 a pair; much higher than the average and well over the $100 threshold. This could pose a problem for Hip Chix, but it's been proven that once women find a product they like, money becomes less of a concern.
Hip Chix sells premium jeans for women, not bargain bin, made in China junk. They're banking on the fact women will not only like how they look in Hip Chix jeans, but how they feel as well. Comfort and style is what Hip Chix is selling, not just jeans. This is a "lifestyle branding" play, not necessarily a mass market roll out. A poll of the females in my house found that, if Hip Chix jeans lived up to their claims and they looked good on them, money would be no object (an all-too common refrain from the fairer sex in m family). The rationale is jeans are a durable and classic article of clothing that will last for years without going out of style.
I own half a dozen pairs of jeans. They're classified as "work jeans," "play jeans," and "dress jeans," depending on what activity they'll be used for. I wear jeans in the garden, while hiking or hanging out, and for nights on the town. Women have similar functions for their jeans, but whatever they wear them for, women want to look good! To me, there's nothing sexier than a woman in a nice fitting pair of jeans and a halter top – it just exudes a comfortable and casual look that drives me wild!
Do the Sharks try on Premium Jeans for Women?
Jeans for Women are nothing new and the market is very crowded. It seems there's a jean company for every shape and size woman. Hip Chix jeans look like they're made for long, lean, cowgirl types; this could hinder their reach. The Sharks will surely have their objections, so Aimee and Megan will need to wow them with their story AND their numbers. In a crowded space like premium jeans for women, they'll need to show some serious sales figures to get the Sharks to bite. After two years in business (closer to one when they taped), slow sales won't impress.
The Hip Chix will need Daymond. Whether he invests or not, he'll need to have positive things to say about the market and the Hip Chix brand. Manufacturing in America could be why the price of Hip Chix is so high, so we may hear the "make them in China" mantra that's become a sticking point for the Sharks in the past. One thing's for sure, it will be interesting to see how women react to Hip Chix on show night. As a guy who'd never fit into Hip Chix jeans for women, I'll "abstain."